Top 7 Stingray City Tours In Grand Cayman (Most Visited Attractions)
November 11, 2022 / updated February 23, 2023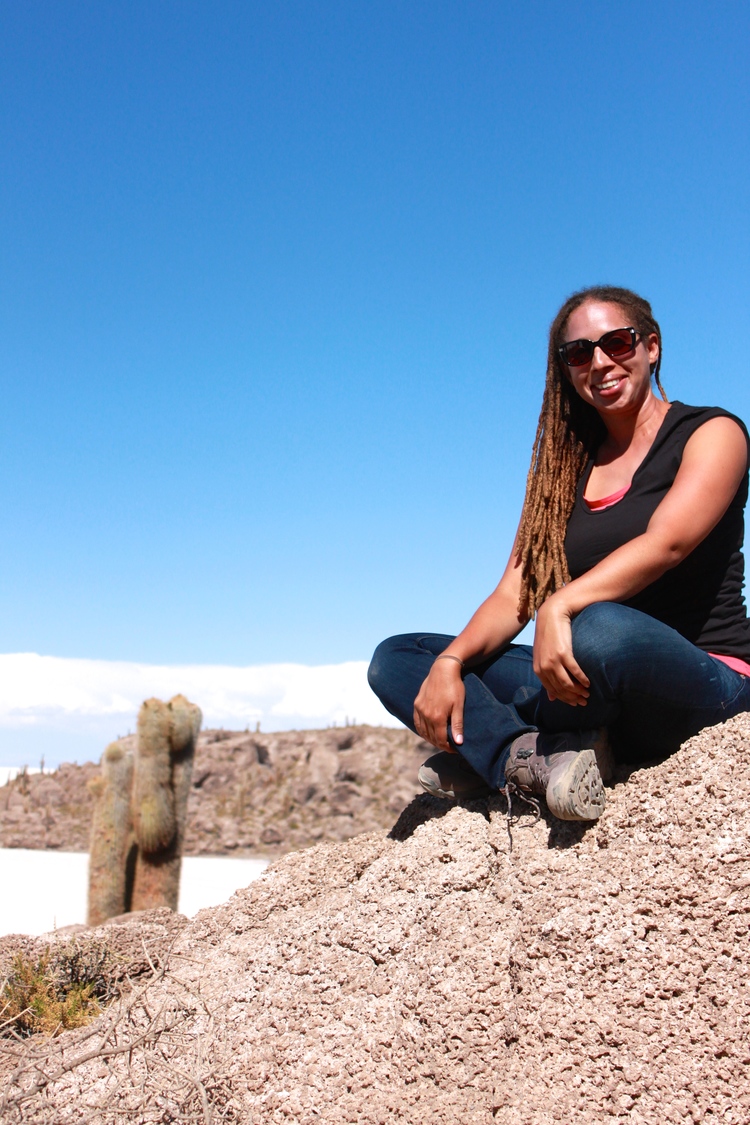 Did you know stingrays enjoy a good pat on the back? If you've ever wanted to interact with rays in their natural habitat, your visit to Grand Cayman might just be your best opportunity. We don't like to bandy around phrases like "once-in-a-lifetime" too often, but there are very few places in the world where you can wade among friendly stingrays, give them a nice big back scratch, and even feed them some of their favorite food: squid.
If you're looking for an amazing experience in Grand Cayman, you can't go wrong with a Stingray City tour. You'll get taken to the nearby location by boat, get crew instruction on interacting with these wild but gentle creatures, and learn all about what makes stingrays so special. You can even visit if you're traveling to the island by cruise ship, as many tours take just three hours and include transportation from port.
Find out all you need to know about this natural attraction, including where you can find Stingray City, why it's so popular, and a rundown of the best Stingray City tours, whether you're after a group tour or a private charter.
Where Is Stingray City?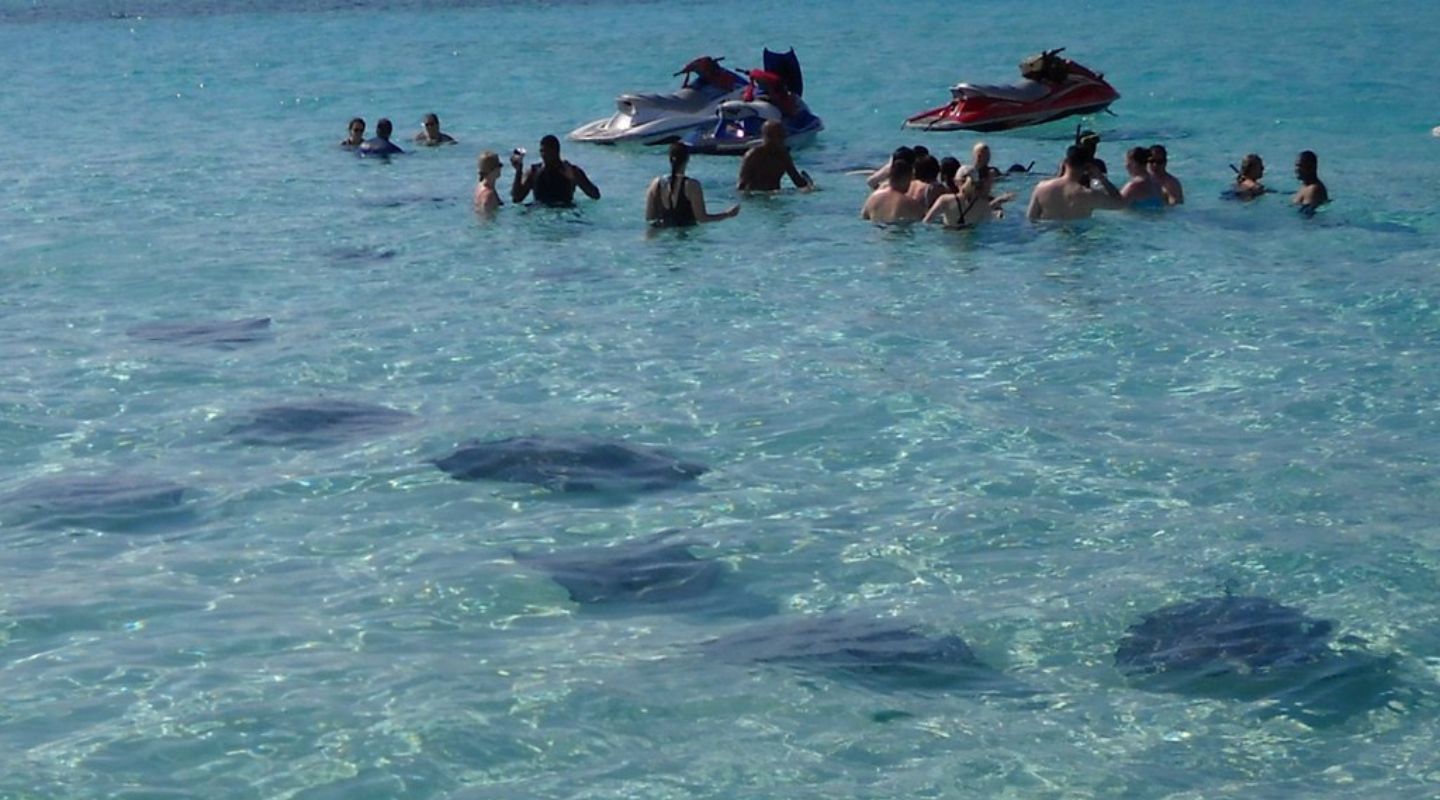 Stingray City is made up of a string of sandbars crossing Grand Cayman's North Sound from Morgan Harbour to Rum Point. It's roughly 4.5 miles off the shore of Seven Mile Beach on Grand Cayman and about a 20-minute boat ride from George Town. It's located in the shallow water found in the sound's northwest inside a natural channel that passes through the barrier reef.
With its proximity to the mainland and even the cruise port in George Town, you can easily do a Grand Cayman stingray excursion within a few hours or incorporate a visit into a longer day trip. Group tours generally start from $45 per person, while private charters cost an average of $900.
Why Is The City Named Stingray City?
As the story goes, local fishermen used to stop by the sandbar to clean their catch on the way home. Over time, they noticed that stingrays would congregate to eat the fish scraps being thrown into the water. Now, instead of fishermen, tourists and locals alike flock to the area to see and learn about these gentle creatures. On any given day, you can expect to see at least 20 stingrays at once, thus the name Stingray City.
The Top 5 Excursions To Stingray City
Each tour has its own unique features but usually involves the opportunity to disembark your boat and enter the shallow water to interact with the stingrays. Visitors can swim with stingrays in their natural habitat and learn about these amazing creatures. Tours are led by experienced guides who will teach you about the stingrays and how to safely interact with them.
A Stingray City tour is usually around three hours. Trips are often combined with a visit to the Stingray City Sandbank and a snorkeling stop. Lunch is sometimes provided depending on the tour you choose, and if you happen to visit during Conch season (November to April), your boat crew might just dive for conch so you can try this Cayman delicacy on board.
Cay Tours Visit To Stingray City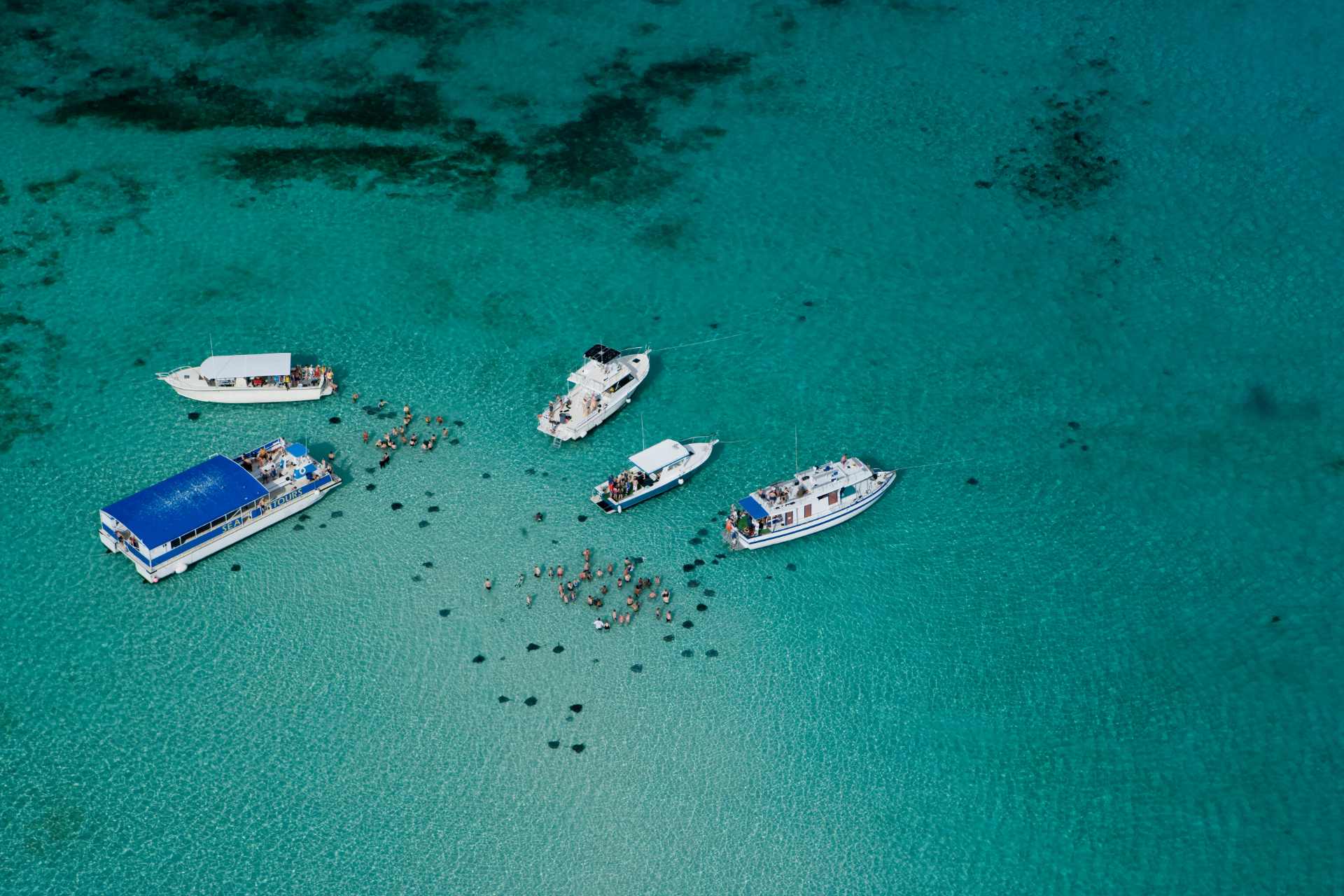 A crowd favorite, CayTours is known for its premier tours all around Grand Cayman. You can choose from one of two Stingray City boat tours: the Two Stop tour or the Three Stop tour. On the Two Stop tour, you'll visit the Stingray City sandbar and a colorful coral reef for snorkeling. The tour lasts approximately three hours with both stops.
The Three Stop tour option adds on a visit to Starfish Point with an extra hour to explore this beautiful and remote beach filled with another marine beauty. Here, you'll find a secluded beach with shallow water surrounding it. This is a great option if you have kids in tow, as you can generally find 10-15 starfish in the 2 to 3 feet deep water. For more starfish spotting, just head a bit further out where the water drops off, and you can use your mask and snorkel to help you spot them.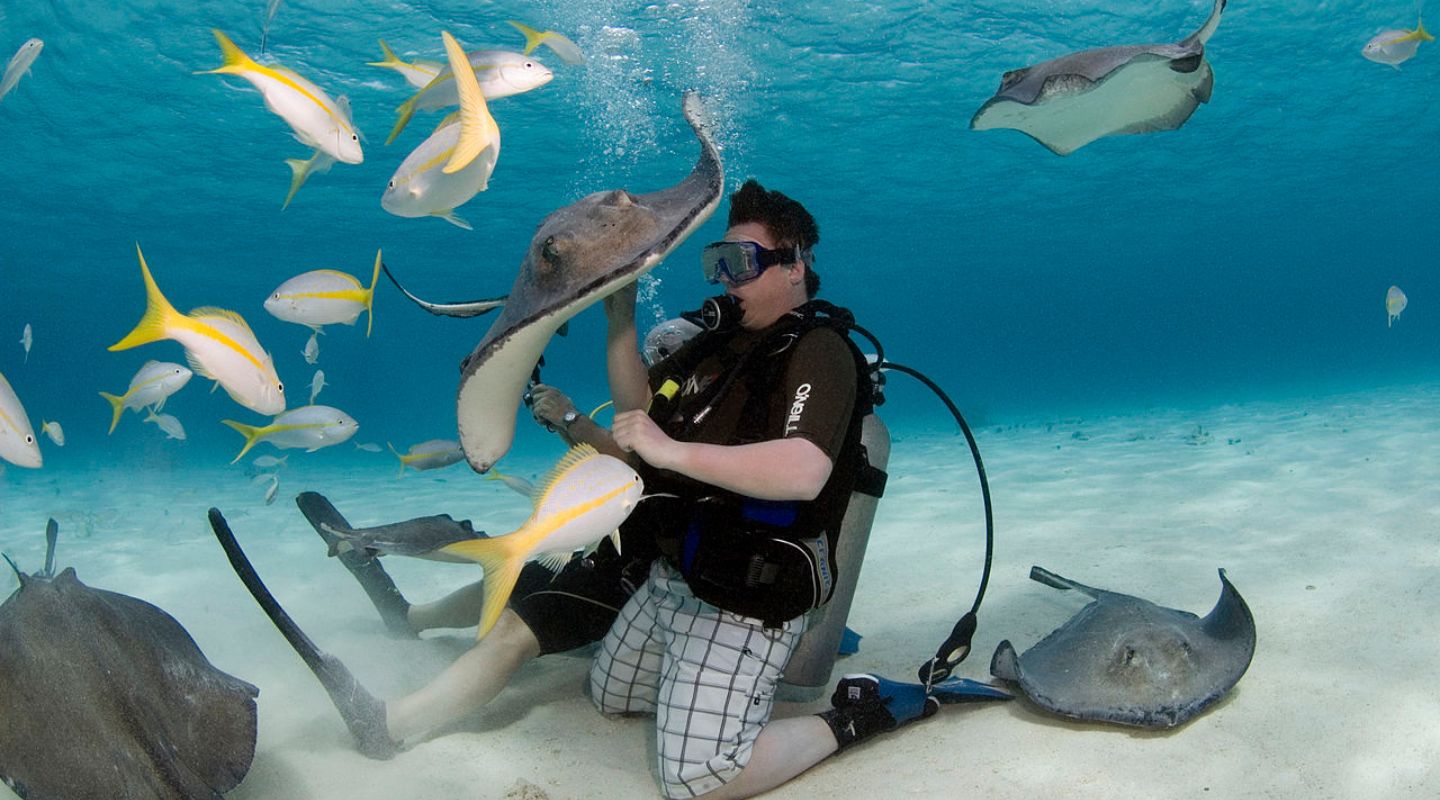 Cayman Turtle Divers
If you're an underwater lover with a dive certificate, why not take your Grand Cayman Stingray excursion to the next level?
For visitor's purposes, Stingray City is technically two different sites. The Stingray City Sandbar is where the majority of visitors are taken. This is where the water is shallowest at just 2-4 feet deep, making it easy for you to spend time surrounded by stingrays without really needing to swim. Stingray City proper is the surrounding area with depths of 12-15 feet of water and is ideal for snorkeling and diving.
Cayman Turtle Divers offers a one-tank dive at Stingray City for certified divers where you can truly swim among the stingrays. On this underwater adventure, you'll get to explore a breathtaking world bursting with stingrays and multiple species of gorgeous tropical fish and even take a few selfies with the locals to remember the occasion.
Captain Marvin's
Captain Marvin's Stingray Tour will take you on an exciting adventure as you snorkel with stingrays in their natural habitat. The company was established in 1951 by Captain Marvin Ebanks, known for being the founder of snorkel trips to the Stingray City Sandbar.
On these Stingray City tours in Grand Cayman, you'll learn about these fascinating creatures and their ecology, and get to see them up close and personal. This is a great tour for both adults and children, and no experience is necessary. Along with its wide range of Stingray City boat tours, Captain Marvin's also offers dolphin, fishing, and turtle lagoon tours.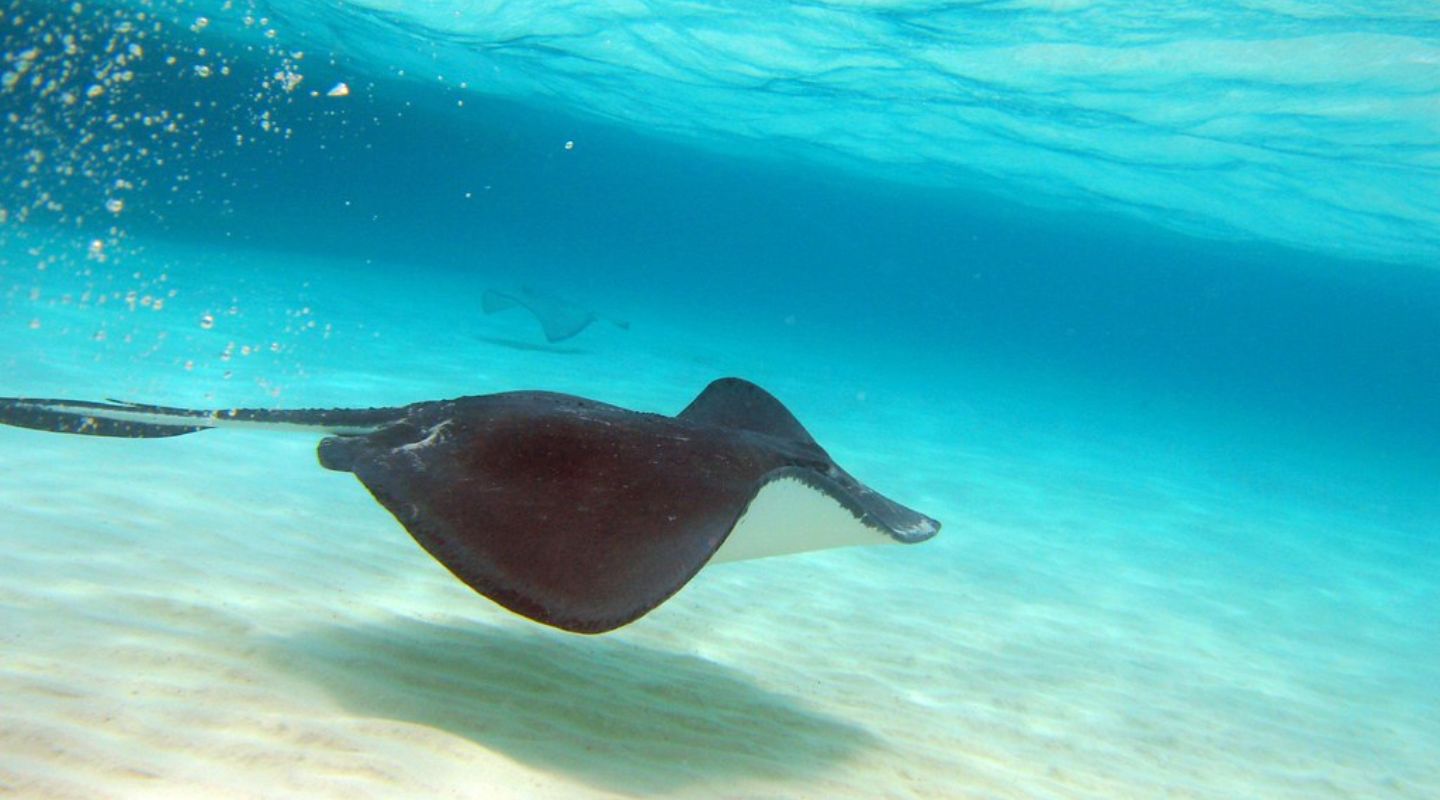 Ebanks Watersports
If swimming with stingrays in Grand Cayman isn't your only goal, then Ebanks Watersports might be the answer to your holiday prayers. Ebanks Watersports has been operating for over 20 years and is one of the few companies offering customized jet ski tours. One of the best Stingray City tours for adrenaline junkies that we've found is its combination Stingray City and snorkel jet ski tour.
You'll start off with a 25-30 minute jet ski ride out to the Stingray City Sandbar. You'll get time to interact with the friendly stingrays and take lots of photos. Your second stop is the Barrier Reef which is teeming with a variety of marine life and gorgeous coral.
This tour lasts approximately 2.5 hours, including transportation, and you'll spend around 2 hours on the water. Half that time, you'll be riding the jet skis, and the other half, you'll be at Stingray City or snorkeling in the reef.
Early Bird Tour With Six Senses
Some days, Stingray City can feel like an actual city thanks to its growing popularity. If you're keen to experience this natural wonder minus the crowds, an early bird tour could be just what you're looking for.
Your first stop will be to swim with and feed the beautiful rays at Stingray City Sandbar. You'll likely be the first ones there, so you can truly take the time to enjoy having these magnificent creatures all to yourself.
Stop two is for a snorkel along the Barrier Reef and stop three is at Starfish Point, where you can have your photo taken with some beautiful marine invertebrates. This special Stingray City tour definitely needs to be booked in advance because it tends to sell out early. It also won't work for cruise ship passengers due to the early start.
Stingray City Experience With A Private Charter
Many people who are considering going on a Stingray City tour are unsure whether they should go on a private tour or a group tour. The truth is that both have their pros and cons, so it's really up to you which one you think will provide you with the best experience. General tours will tick all the boxes and make sure you get the most out of your trip, but a private charter is ideal for people who want to be on their own schedule and do not want to be tied down to a specific itinerary.
While it may be more expensive to book a private tour, you'll be able to choose only the activities you want to do, how long you want to stay at each site, and even add some fun extras like an exhilarating tube ride or a professional photographer. Each boat that visits Stingray City has a small limit to how much food they can feed the stingrays, so one of the advantages of booking a private charter is that you have a greater chance to hand-feed a stingray compared to one of the big boat tours.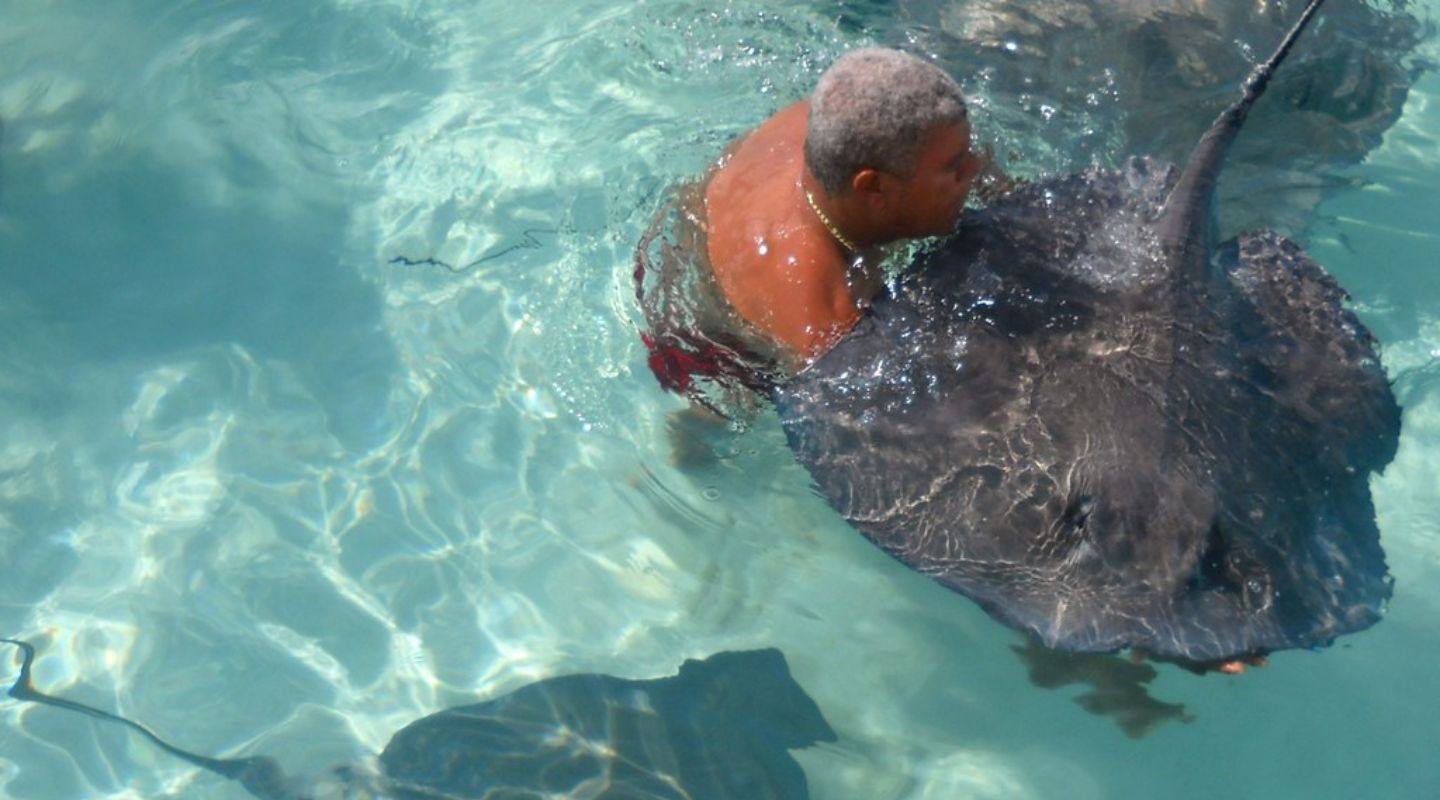 Crazy Crab Charter
Crazy Crab Charter lets you fully customize your day out in Grand Cayman. You can choose how many hours to book (from two to eight), which sites you see, and even which of their three boats you want to spend the day on. As well as a visit to Stingray City, you can easily include the following on your private charter with Crazy Crab:
Guided snorkel around the stunning Coral Gardens or Barrier Reef
Relaxing cruise through Grand Cayman's protected mangrove forests to observe birds, animals, and other young marine creatures
Visit the calm, shallow, golden sandy beach of Starfish Point
Float and snorkel in one of the world's best bioluminescent bays
Dining at a variety of dockside restaurants for lunch, dinner, or a quick snack
All private charters come with a local captain and guide who will help you craft your perfect trip. Prices start from $800 and include snorkel gear, spare towels, ice, bottled water, and juice, plus some squid if you choose to feed the rays.
Cobalt Custom Charters
Cobalt Custom Charters aims to provide its guests with a luxury private boat charter experience with experienced staff and first-class amenities. Its dedicated team includes an experienced stingray handler. They will give you a safety briefing before disembarking in Stingray City, and if you don't feel comfortable getting into the water, you can choose to sit on the back of the boat where Cobalt's staff will bring a stingray close enough so that you can still see it up close and touch it.
All of Cobalt's private charters include bottled water, a cooler filled with ice, snorkel equipment, safety equipment, fresh towels, and food for the stingrays. A three-hour charter on a luxury bowrider boat for a group of up to eight costs from $850. You can decide which stops you do, when you do them and how long you visit.
FAQs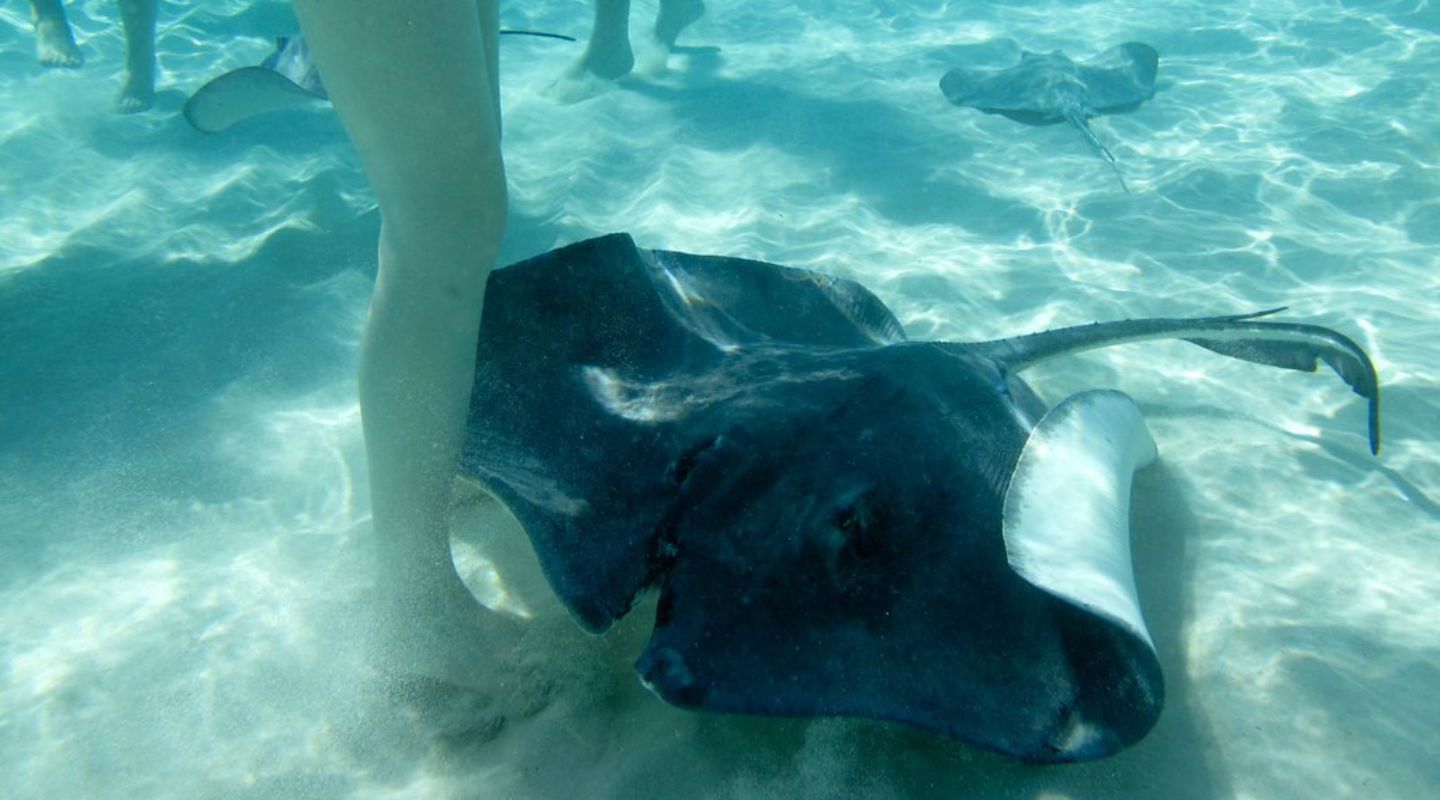 Are the Stingrays Dangerous at Stingray City?
There is always a risk when swimming with wild animals, but the stingrays at Stingray City in the Cayman Islands are used to humans and are not considered dangerous. Even in the wild, while there is always a risk of being stung by a stingray, the creatures are generally harmless unless they feel threatened.
How much does it cost to visit Stingray City?
There are many variables to consider when choosing a Grand Cayman stingray excursion, such as the time of year, the number of people in your group, and the type of tour you select. However, as a general range, you can expect to pay anywhere from $50-$100 per person for the best Stingray City tour.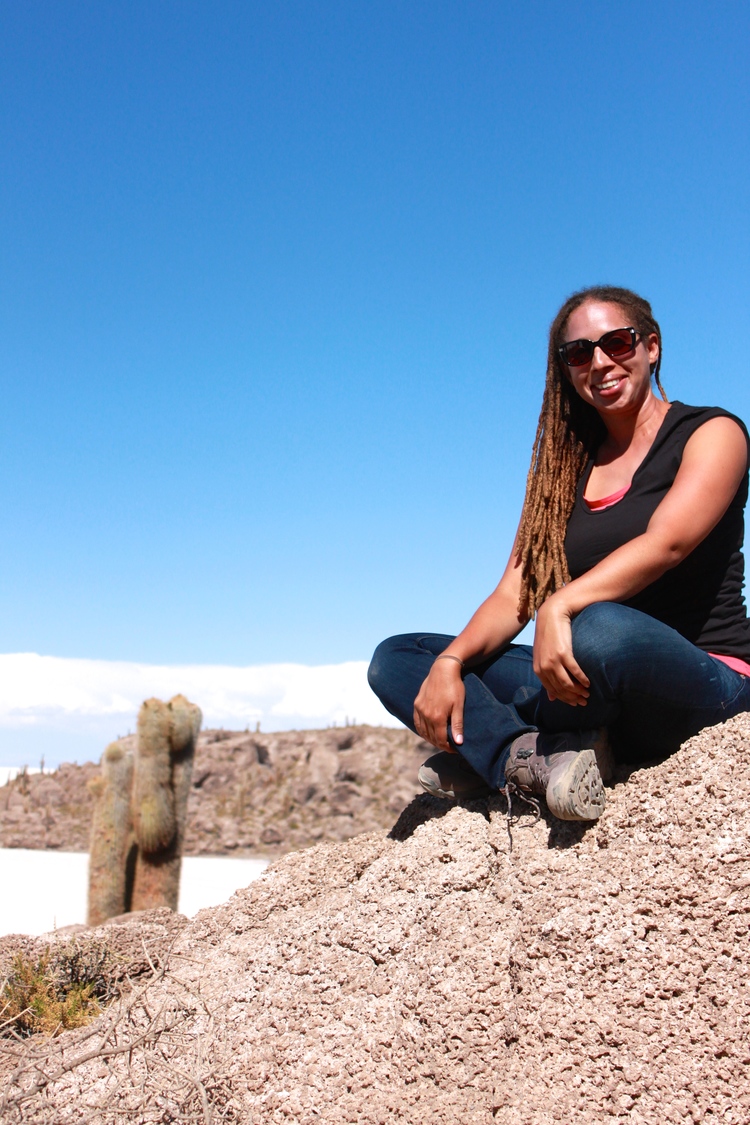 Cristal D
Local Writer, Global Traveler
Cristal Dyer was born in the Caribbean and has spent the last several decades travelling and writing, including several stints in Latin America. Currently based in Australia, she owns and operates her own travel site tofutraveler.com and is an expert travel writer, editor and photographer with a focus on solo budget travel and food tourism.