11 Unique Things to Do in Grand Cayman (2022)
August 15, 2022 / updated September 16, 2022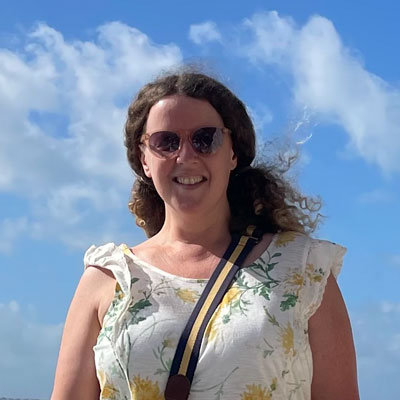 The Cayman Islands are a top-tier destination, home to distinctive pastel-colored homes, unbeatable white sand beaches, and a well-developed food scene that's won the islands the label 'culinary capital of the Caribbean'.
The Caymans are well-known to luxury travelers, who have long flocked to the 5-star resorts of the largest island, Grand Cayman, to spend time on the world-famous Seven Mile Beach. But the island has so much more to offer than just its beaches.
So, if you want to experience more of what this stellar island destination has to offer, here are 11 unique things to do in Grand Cayman on your next visit.
Where are the Cayman Islands?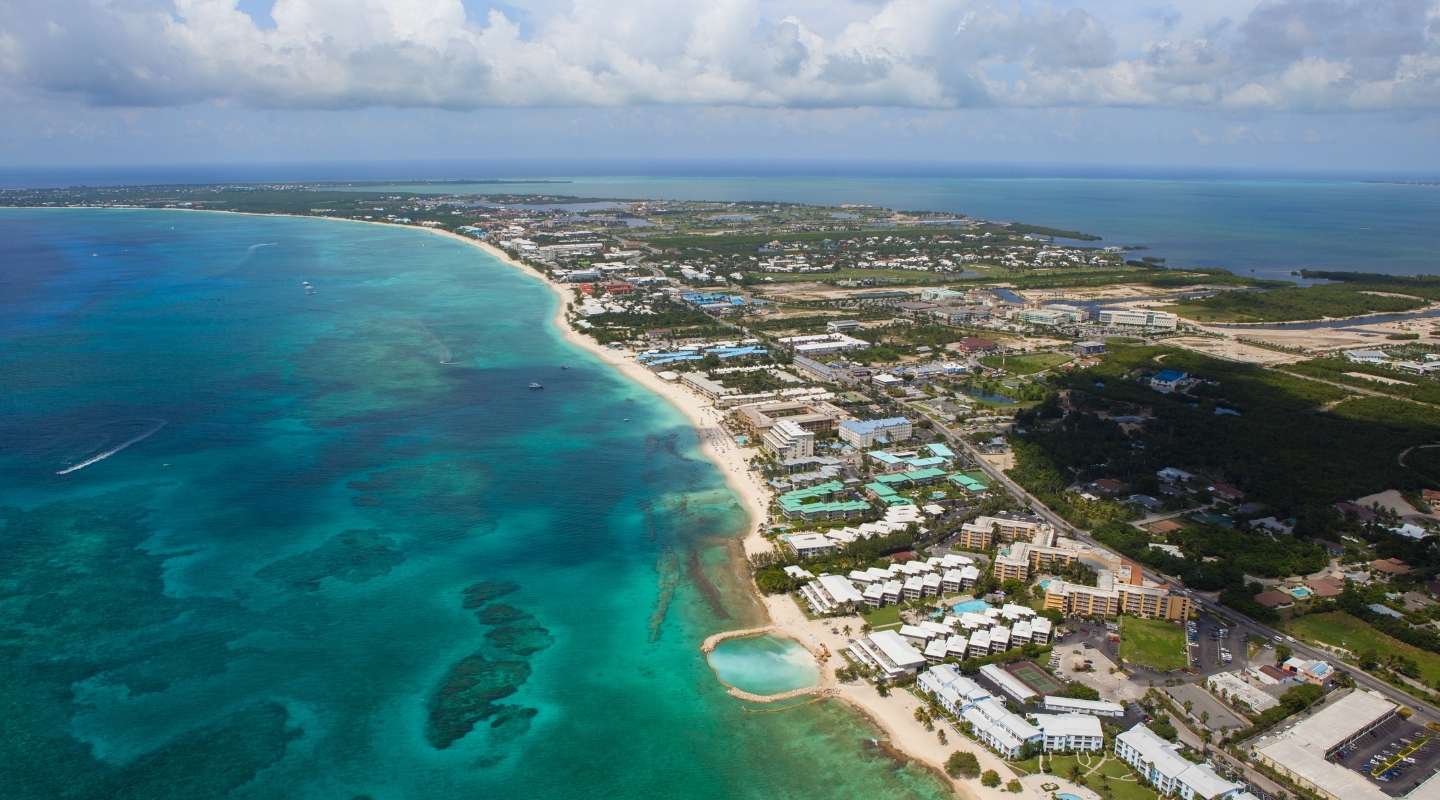 The Cayman Islands are found in the Caribbean Sea between Cuba, Jamaica, and the coast of Central America. Cayman Brac and Little Cayman are the most easterly situated, whereas the largest island, Grand Cayman, is over 100km to the west of its compatriots. The archipelago is relatively isolated, with the closest land being Cuba, around 250 miles away.
Grand Cayman
Grand Cayman is the jewel in the crown of the Caymans. It's easily the most visited of the three islands, with well-developed tourist infrastructure, a busy cruise port, and an international airport.
The capital of Grand Cayman is George Town and this will provide the first glimpse of the island for most visitors, whether arriving by air or sea. It's a small, pretty place, with a few remaining wattle and daub-constructed homes giving insight into building practices from back in the 1700s. Cruiser-friendly shopping and the informative Cayman National Museum are among the best things to do in George Town, alongside international and Caribbean dining in the city's thriving restaurant scene.
Cayman Brac
The 'Brac' of Cayman Brac means 'bluff' and is named for the limestone cliff that rises 43 meters above sea level, making it the highest point in the Cayman Islands. Famous for cave diving, climbing, hiking, and fishing, Cayman Brac is much quieter than its larger island neighbor to the west, but it does have its own airport, with most flights routing via Grand Cayman.
Little Cayman
The smallest of the three Cayman Islands, Little Cayman has the smallest population and has seen the least development of all the islands. Best known for its great scuba diving sites, as well as a plethora of wildlife and plants, Little Cayman is home to a large marine research facility built in the late 1990s to help preserve the area's precious coral reef.
What Are The Cayman Islands Famous For?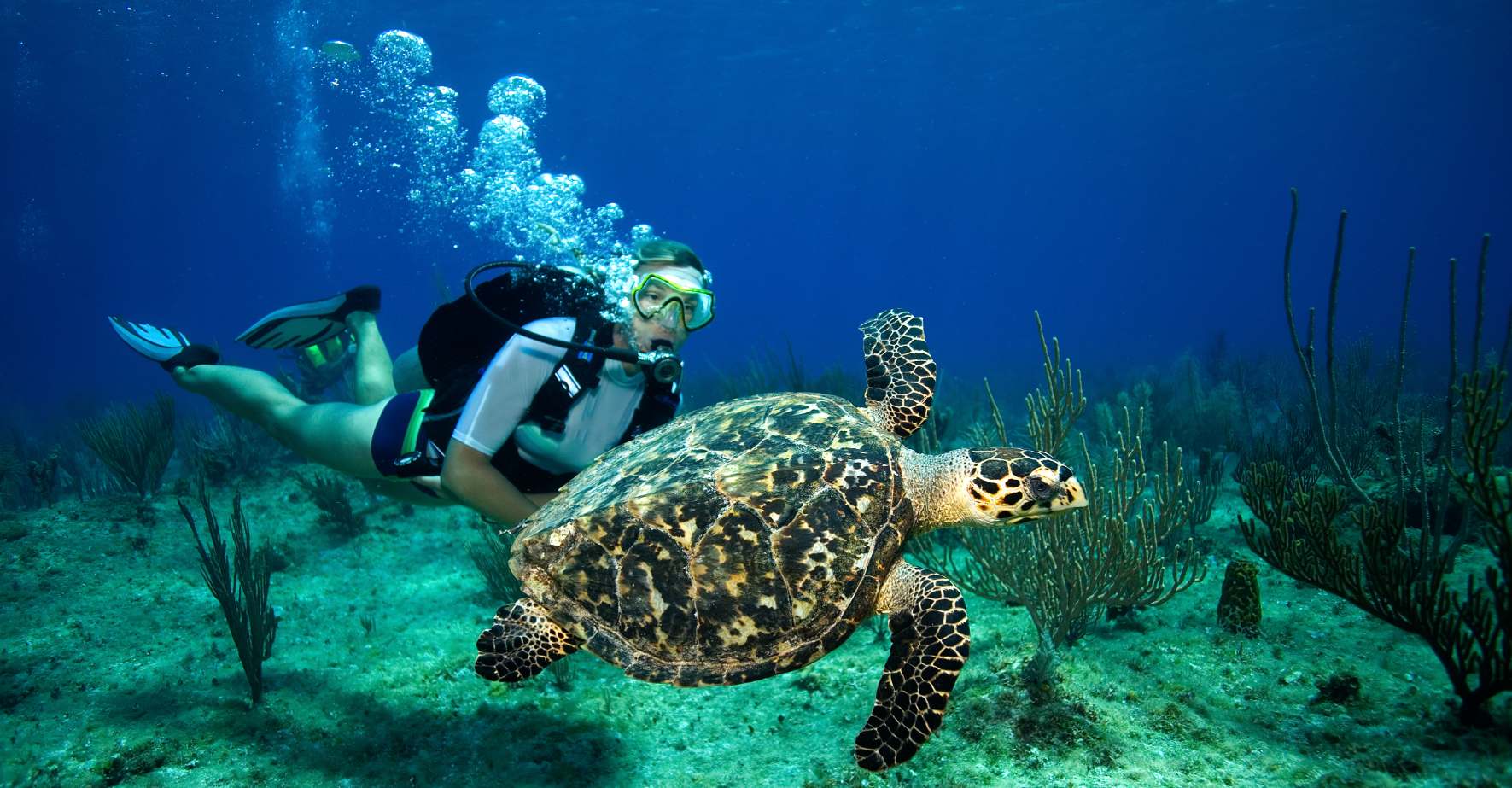 The Cayman Islands are famous for spectacular diving and beaches, but also turtles and - usefully for some of the world's wealthiest - they are also renowned for being a tax haven.
Turtles
The Cayman Islands were first claimed by Christopher Columbus back in the 1500s when he originally named them 'Las Tortugas' - 'The Turtles' in Spanish - due to the large numbers he saw swimming in the turquoise ocean. The turtle remains iconic here, representing the Cayman Islands archipelago.
Diving
The Cayman Islands are famed for offering some of the best diving in the world and were actually one of the first places where diving for fun became popular. There are spectacular wall dives and also impressive wrecks to explore - and the lovely, warm water doesn't hurt either!
Beaches
You can't think of the Cayman Islands without envisioning glorious stretches of white sand beaches with crystal-clear waters gently lapping at the shore. And the reality is as good as you'd hope.
Seven Mile Beach (which is actually only 5.5 miles long) is the most famous of Grand Cayman's coastal offerings, but there are plenty of others to explore, as explained in this in-depth guide to Grand Cayman beaches.
Banking
Banking and the Cayman Islands go hand in hand. The islands have developed something of a reputation as an offshore tax haven where wealth management and financial services are plentiful - in fact, there are over 500 banks spread across the three islands.
Best Months to Visit Grand Cayman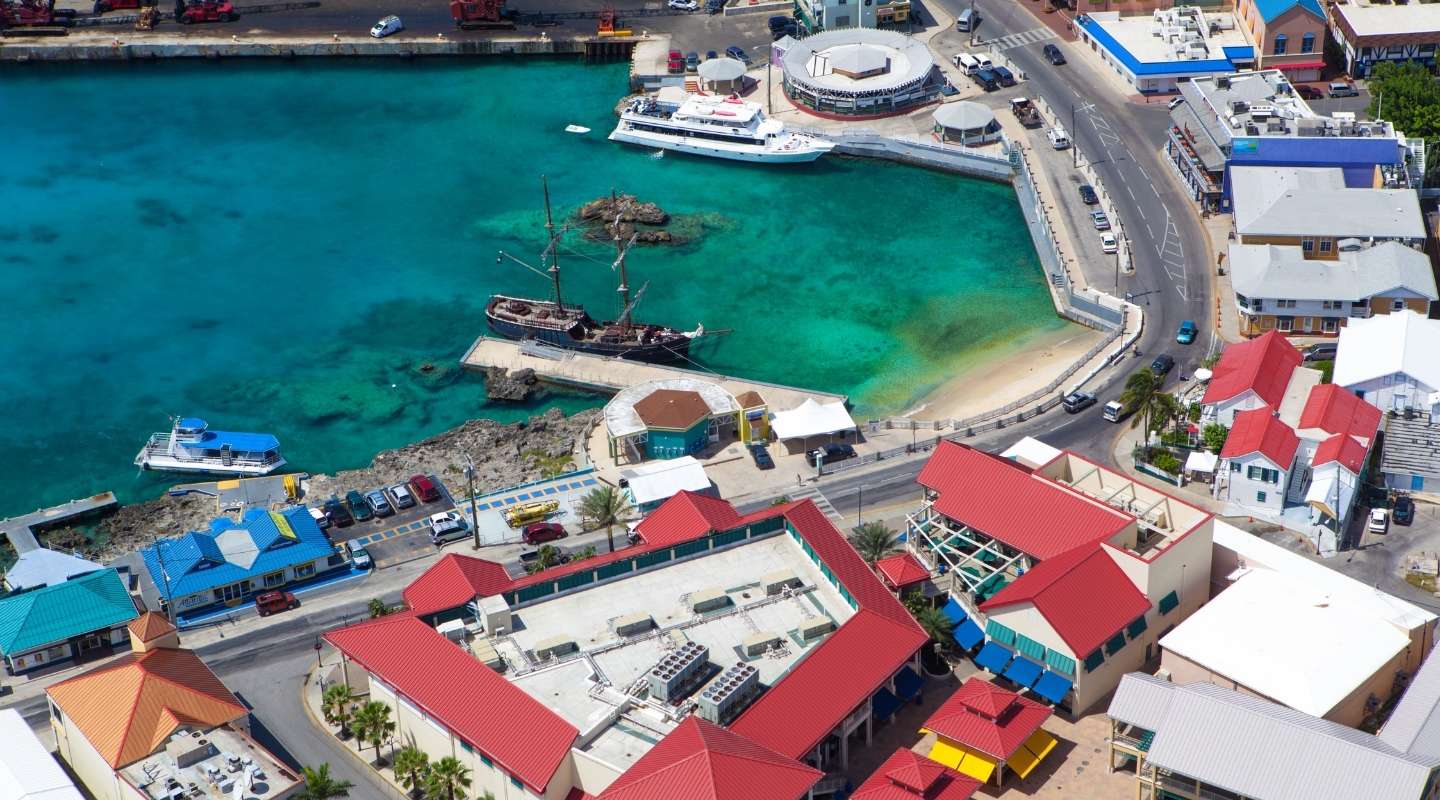 When planning a trip to Grand Cayman, there are two main considerations; cost and weather. It's a balancing act - when the weather is best, the prices are highest. So 'best' really depends on your priorities.
Weather
If you're chasing the weather, then plan your visit for December to April, which is the dry season. April is the driest of all and offers pleasantly warm temperatures and gentle breezes. September and October are best avoided, as that's when Grand Cayman sees the most rain, as well as an increased chance of hurricanes.
Cost
The cost of hotels and resorts in Grand Cayman can fluctuate vastly throughout the year. The cheapest prices, unsurprisingly, are found when the weather is at its worst, in September and October. But, you may also be able to find bargains in May, when the weather is more favorable and there are fewer tourists than during peak season.
Unique Things to do in Grand Cayman
There are enough Grand Cayman attractions to keep even the most demanding of visitors entertained. Here we share some of the most fun things to do in Grand Cayman.
Pedro St. James Castle
Possibly the most famous building on the entire island, Pedro St James Castle is a must-see during your visit. Built back in the 1700s by a rich Englishman, this three-story home was purchased by the Cayman Islands government in the 1990s and restored to its former glory. It now serves as a living museum, where you can experience life as it was in Grand Cayman hundreds of years ago.
Located around 20 minutes from George Town, the best way to visit this remarkable building is on a Pedro St James Castle guided tour, where you'll learn about its history and why it went on to become the island's first national landmark.
Cayman Islands National Museum
Housed in one of the only remaining 19th-century buildings on the island - which, incidentally, also exhibits that 'wattle and daub' construction we mentioned earlier - you'll find the Cayman Islands National Museum.
Across two floors, you'll find an interesting mixture of exhibitions, including natural and cultural history, a celebration of 50 years of Cayman Airways, an exploration of the island's famous Coat of Arms, as well as the opportunity to pay a visit to the island's old jail.
Queen Elizabeth II Botanic Park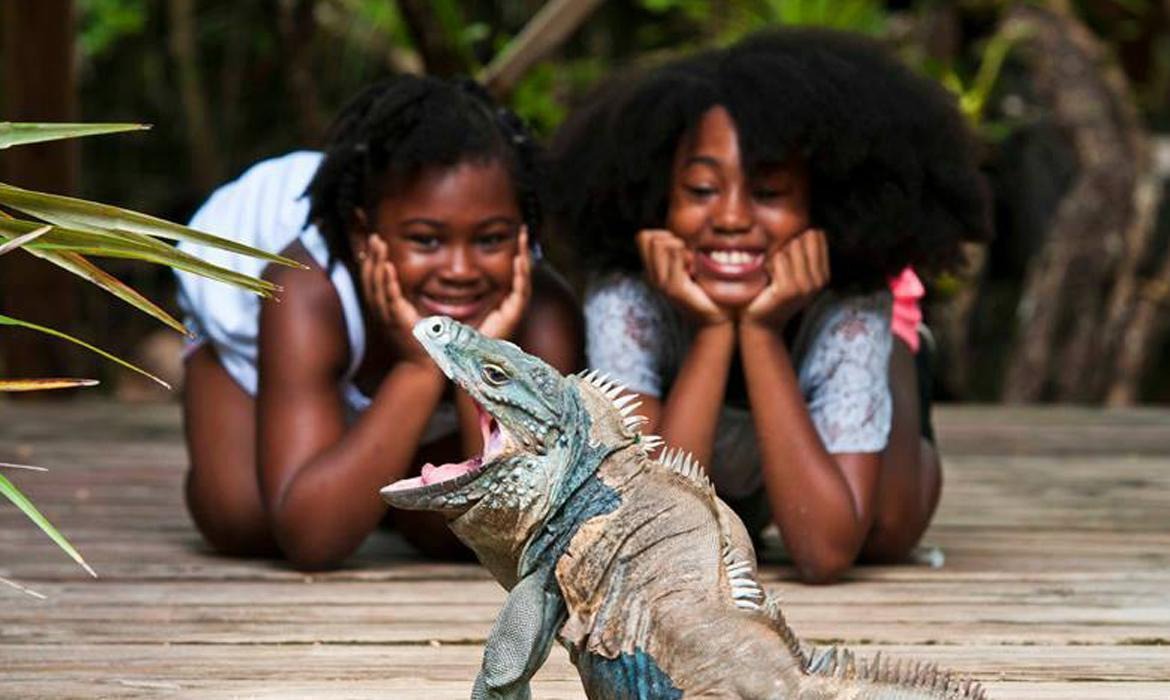 Image courtesy of Explore Cayman
In honor of the Cayman Islands' head of state, Queen Elizabeth II, Grand Cayman has dedicated a 65-acre botanic park filled with various beautiful flowers, plants, and trees. The attractions are spread across a Floral Garden, Orchid Boardwalk, Xerophytic Garden, Heritage Garden, and a Woodland Trail.
Importantly, the park also houses the Blue Iguana Conservation Facility, which works hard to preserve the endangered Blue Iguana. This particular species is only found on Grand Cayman - and you may be lucky enough to spot them roaming freely around the park.
National Gallery of the Cayman Islands
For over 25 years, the National Gallery of the Cayman Islands has been highlighting the work and culture of its Caymanian artists, as well as displaying a wide range of art and sculpture by international invited artists.
Visitors can explore the permanent exhibit, with content regularly rotated from its extensive collection. There's also a regular program of lectures and events where art aficionados can enjoy in-depth learning about the pieces on display, as well as the people who created them.
Unique Things to do Outdoors on Grand Cayman Island
You've come all the way to an island blessed with beautiful weather, stunning scenery, and amazing wildlife, so it makes sense to experience it while you're here, right? Sightseeing in Grand Cayman just got natural!
Cayman Crystal Caves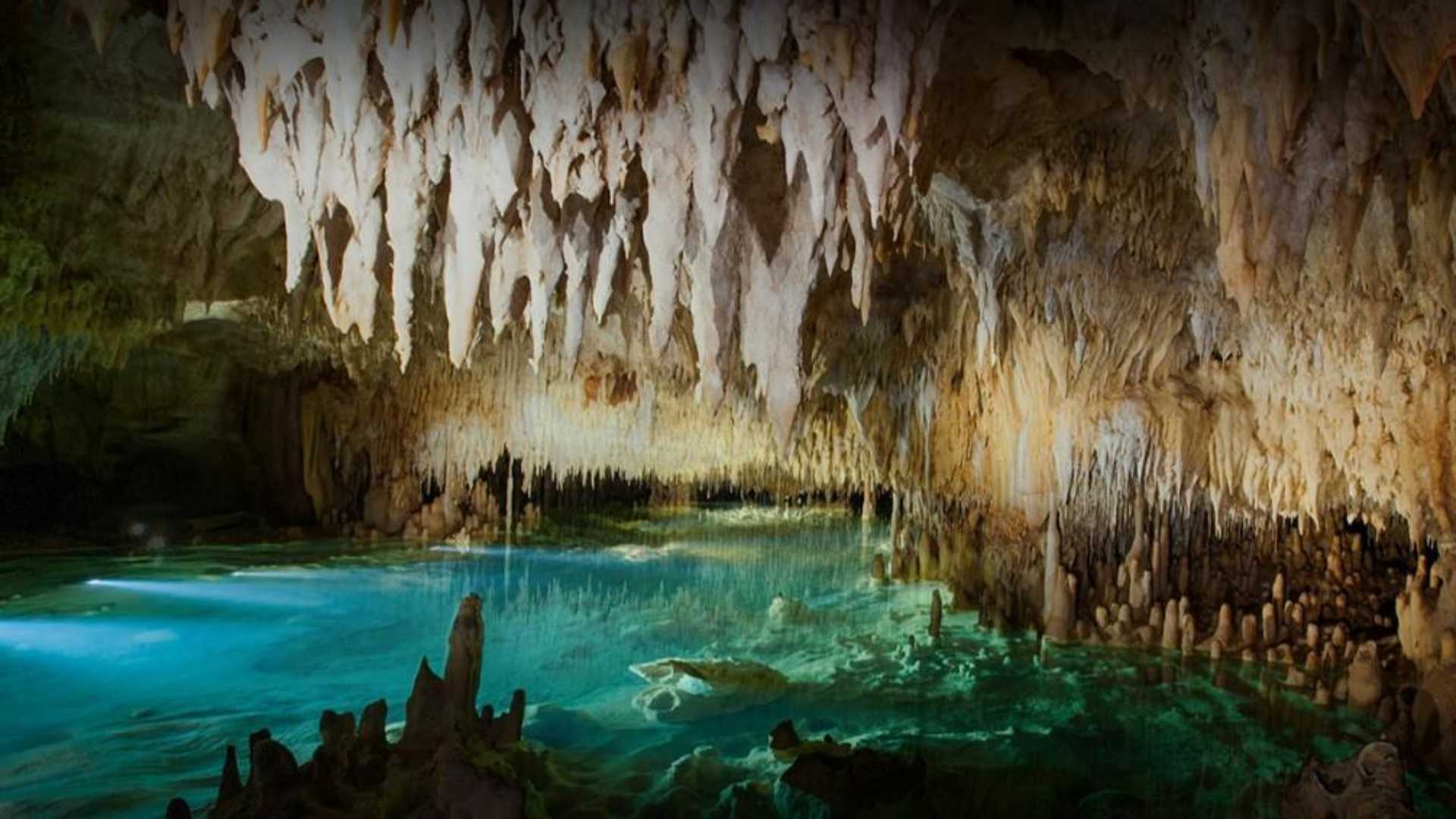 For a real 'Wow!' moment, the Cayman Crystal Caves are difficult to beat. Located on the North Side of Grand Cayman, this is the perfect attraction for nature lovers who want to explore under the surface of the island - literally.
There are 3 caves to explore, each one created by changing sea levels eroding the rocks over many hundreds of years. You'll be fascinated by the sheer number of stalagmites and stalactites which create an astounding spiky display unlike anything else.
This Grand Cayman attraction, which opened in 2015, is only accessible via a guided tour. Here's a great Cayman Crystal Caves tour, which will more than sate your appetite for a unique natural experience.
Stingray City Grand Cayman, George Town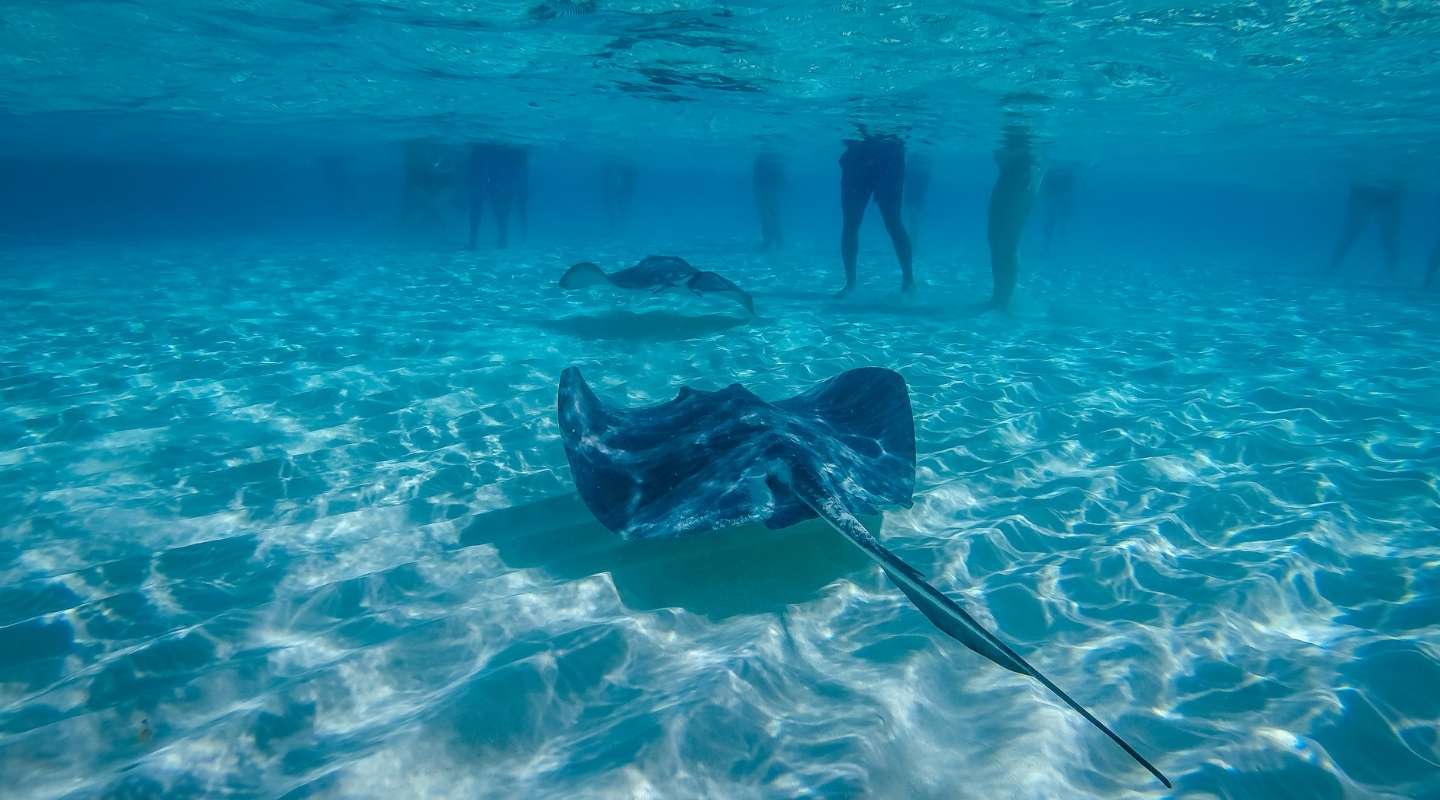 Stingray City is a set of sandbanks between Rum Point and Morgan Harbour where stingrays gather to feed. If you choose to visit this must-see in Grand Cayman, you'll be able to get up close to these remarkable and gentle creatures, petting them and feeding them by hand.
Watching a ray - which can be up to 4 feet wide - swimming in only 3 feet of water, makes for an unforgettable experience - and a great photo opportunity. Here's a guide to our favorite Stingray City tours to wet your appetite.
Seven Mile Beach
Seven Mile Beach is undoubtedly the most popular of the many Grand Cayman attractions. Located on the west coast of the island, the 5-plus-miles of fine, white sand have been enticing tourists to visit the island since Grand Cayman's first major popularity growth back in the 1990s. Get the visitor's guide to Seven Mile beach to learn more.
All of Seven Mile Beach is public property, but there are certain points that are particularly popular:
Cemetery Beach: at the northern end of Seven Mile Beach, this section is great for snorkeling
Public Beach: a wide stretch of sand with plenty of facilities
Governor's Beach: another favorite beach with swim-out access to the reef
Snorkeling Excursion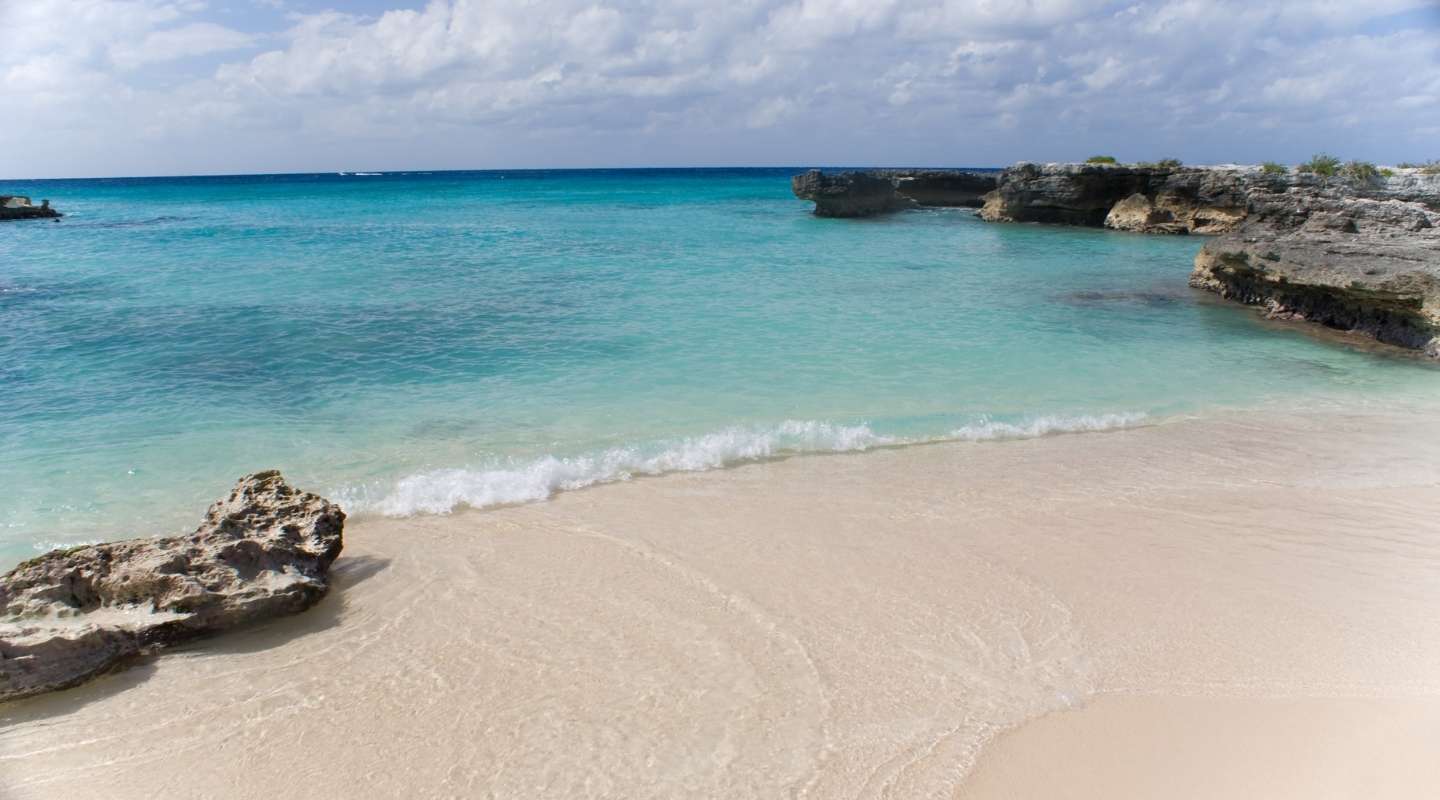 When it comes to activities in the Cayman Islands, a no-brainer is enjoying the excellent snorkeling and diving on offer. While you can swim out to the coral reef from some of the beaches, a tour will bring the added bonus of accessing several sites in one day.
On [this snorkel excursion], as well as spending some snorkel time taking in the tropical fish, swaying seaweed, and impressive coral, you'll also get to enjoy the view from a glass bottom boat - two different vantage points that will provide you with long-lasting memories of Grand Cayman's underwater world. Check out this [2022 guide to the Top 15 Snorkeling Spots in Grand Cayman].
Kitesurfing
All you need to kitesurf is the right equipment, the ocean, and some wind. So why kitesurf in Grand Cayman specifically? Well, those consistently warm ocean temperatures help, as does the turquoise-and-white-hued scenery. Geographically, Grand Cayman is perfect for kitesurfers, as it has plenty of bays and coves where you can find ideal conditions. And from November to April, the winds are strong and consistent - perfect for this adrenaline-inspiring activity that's constantly growing in popularity.
Starfish, Stingray and Coral Garden
A Starfish, Stingray, and Coral Garden tour is a real highlight.
Starfish Point is an enchanting place, where you can spot everyone's favorite 5-pointed creatures living on the bottom of the ocean, as you snorkel in the shallow, clear waters.
Stingray City is another great spot for sightseeing in Grand Cayman, as you can swim with stingrays in their natural habitat, and even feed them if you'd like to. Stroking the unique sandpaper-like skin of a ray is really quite something.
Finally comes the Coral Garden, a special place on the North Sound where you can explore the beautiful coral formations found in the barrier reef that the Cayman Islands are famous for.
FAQs About Things To Do In Grand Cayman
Here are some of the most commonly-asked questions about things to do in Grand Cayman.
What can you do for free in Grand Cayman?
The great thing about Grand Cayman is that all of its beaches are public access - meaning there is no charge to use them. You can also spot the native wildlife for free as they roam around the island minding their business - chickens and iguanas are among the most common. One of the best things to do in George Town is simply strolling around soaking up the atmosphere and admiring the architecture - a lovely, no-cost way to spend an afternoon.
What can you do on your own in Grand Cayman?
Solo travelers are spoiled in Grand Cayman! Not only will you be treated like royalty in any of the island's resorts, but if your accommodation's beachfront, you'll be able to relax on the fine, white sand, enjoying a cocktail or two as you become best friends with your lounger. If you want to do something more active, there are plenty of Grand Cayman tours and excursions to choose from, where you'll also get to meet people from all over the world.
What are the best things to do in Grand Cayman for families?
If you have kids, they will be mesmerized by the variety of wildlife on the island. Snorkeling straight from the beach is very family-friendly, and the whole family will love visiting Starfish Point and Stingray City. The Cayman Turtle Centre is popular with families, as is Cayman Crystal Caves, which will leave everyone in your family speechless.
In a nutshell…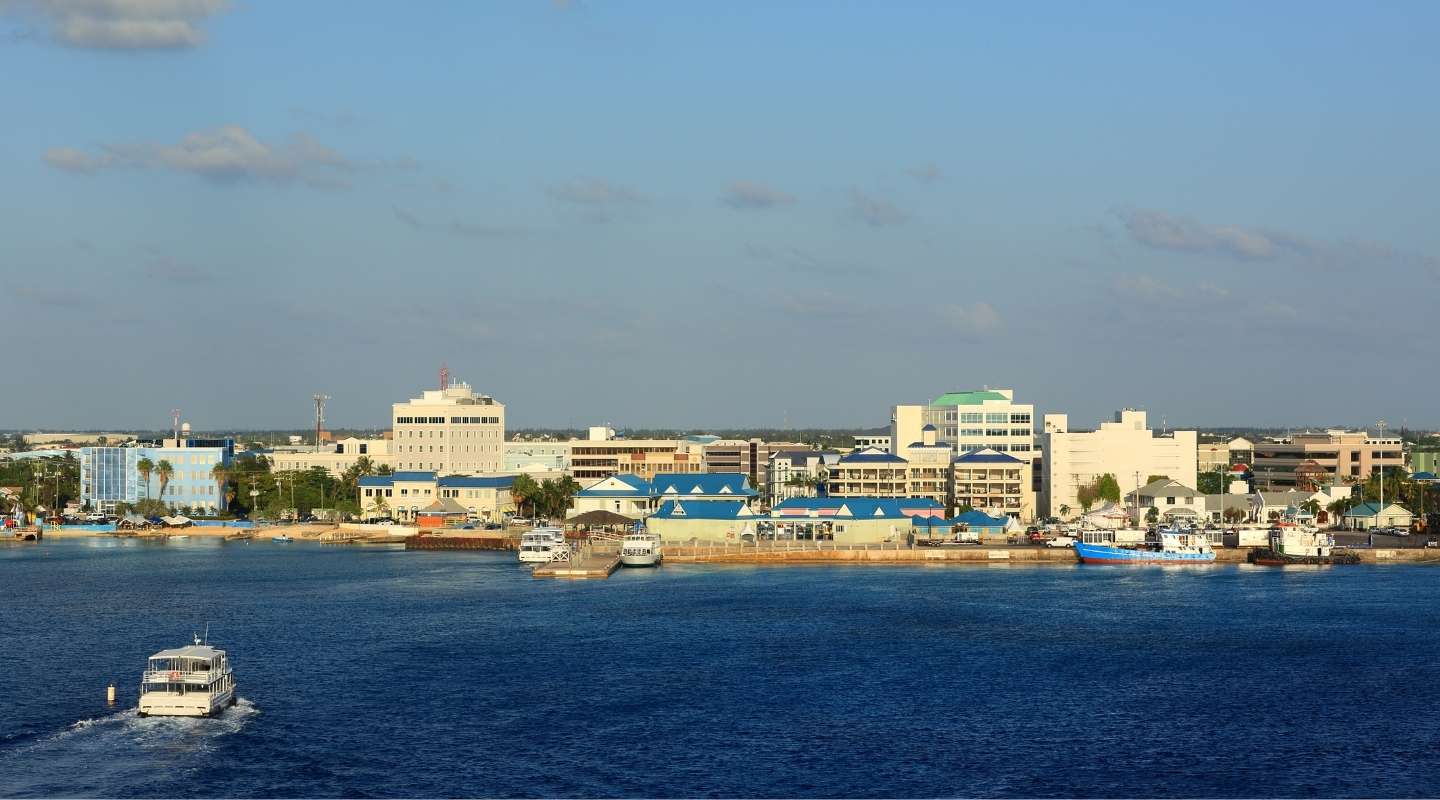 Grand Cayman is a small island that packs a big punch. On the 'Grand Cayman top things to do' list, you can add so many activities, from visiting Seven Mile Beach to feeding rays at Stingray City, or from exploring the historic St Pedro Castle to sampling tasty Caribbean liquor at the Cayman Spirits Company Distillery. This is a destination that truly offers something for everyone.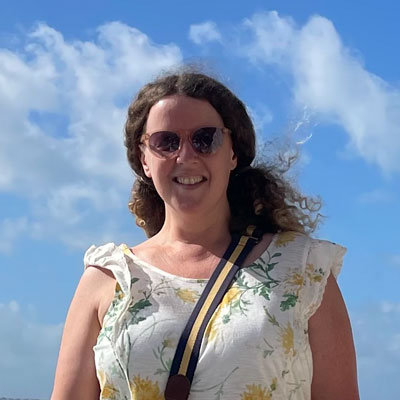 Carly R
Independent Traveler and Thinker
Carly Rolfe is a Travel Journalist & Writer from the UK who has travelled extensively in Mexico and the Caribbean. Her writing for outlets such as Hotels.com, The Cancun Sun, and Virgin Experiences has helped thousands of travelers discover new experiences.