9 Reasons to Dive the Cayman Islands
August 4, 2022 / updated December 14, 2022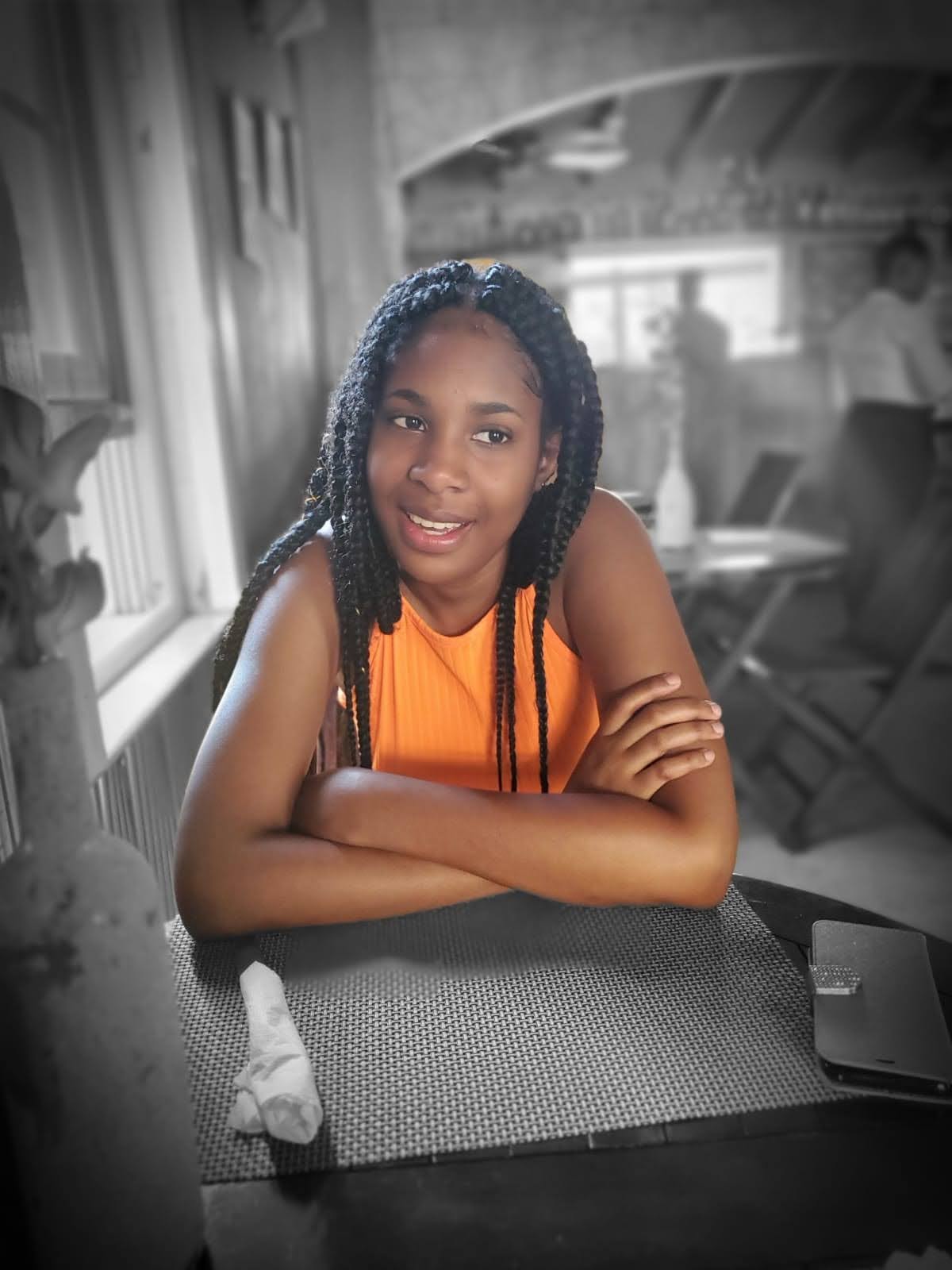 Ready to dive the Caymans, but as overwhelmed as we were when we started? We've got you covered. When in the Caymans, the best way to explore it isn't from a glass-bottom boat or in a marine park. Scuba diving is truly the best way you can get up close and personal with the reef and introduce yourself to the underwater residents of the island.
If you're a beginner, or if you've never dived in the Cayman islands before, it can take a bit of work to find the right Grand Cayman diving excursion for you. It's not because there aren't great diving spots. It's actually because there are so many to choose from, and not all of them are beginner-friendly.
In this ultimate guide to scuba diving the Grand Caymans we'll layout the best dive spots, ways to dive in the Caymans and other key tips for you to plan your diving experience.
Overview of Scuba Diving The Cayman Islands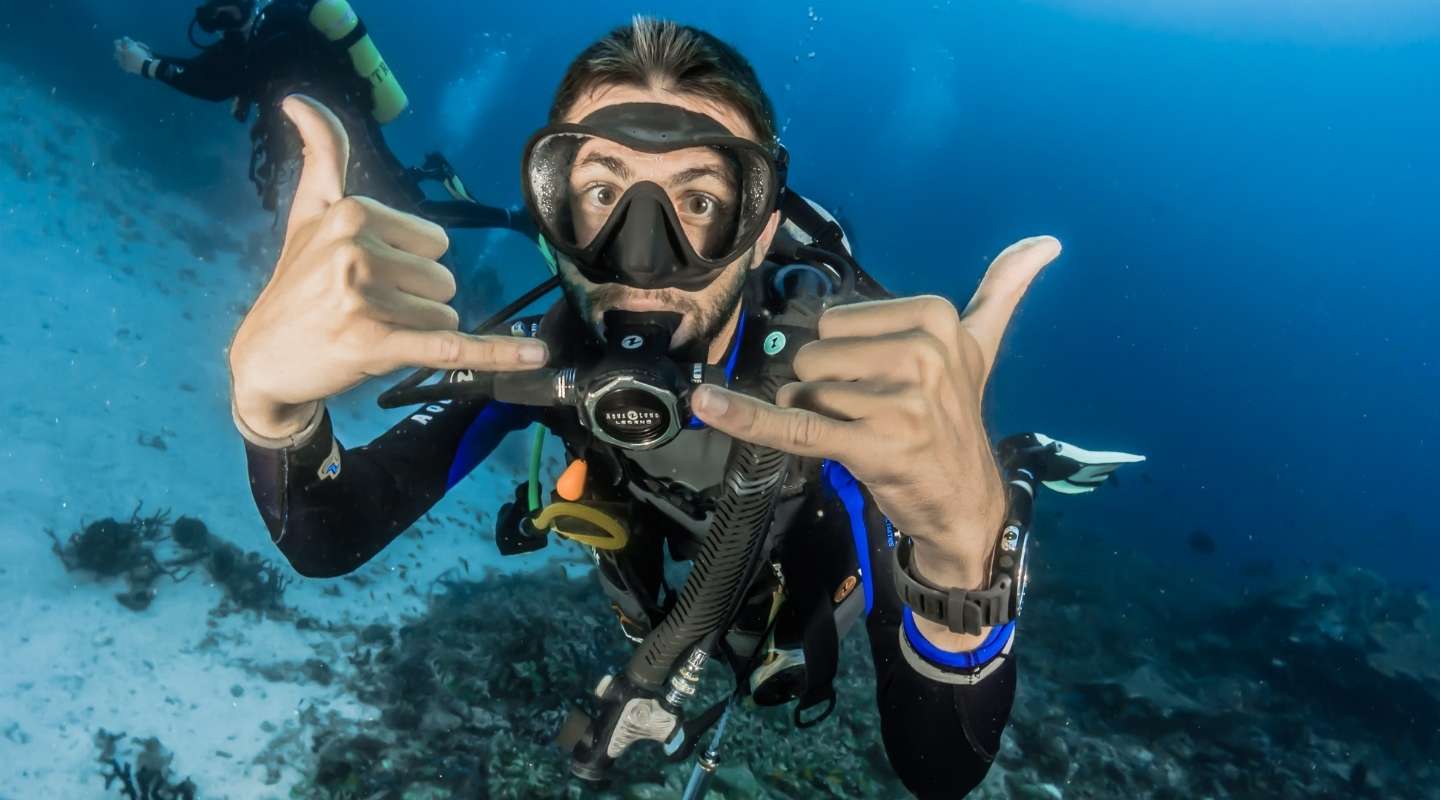 The warm temperatures of the Caribbean are the perfect place for different species of fish and underwater organisms to thrive and gather in large numbers. The Cayman Islands exemplifies this! It's also where you'll find a ton of shipwrecks and deep drop-offs to explore. High visibility and comfortable water temperatures make it the perfect place for diving.
The Cayman Islands are made up of three main islands, Grand Cayman, Little Cayman, and Cayman Brac.
As the largest and most populated island in the Caymans, it shouldn't surprise you that most dive sites and operators are here on Grand Cayman. When diving in Grand Cayman, you'll encounter eagle rays, starfish, angel fish, sponges, turtles, tarpon, nurse sharks, morays, and tons of other species, so be sure to pack your camera. You can even explore the USS Kittiwake and shore dive at your own pace.
If you want to dive somewhere a bit more secluded, Little Cayman has the perfect diving spots, a bit more off the beaten path. It has more than 50 dive sites, some shallow enough for beginners, and as deep as 6500ft! The bioluminescent corals of Bloody Wall Bay coupled with high visibility and diverse fauna are a sight to behold.
Cayman Brac is also secluded and is great for wall diving and exploration. You'll find the famous Russian Destroyer called the Destroyer 365 (Mv Capt. Keith Tibbetts) here, along with low currents that make beginners feel right at home.
Which is the best island to dive in the Cayman Islands?
If we had to choose, Grand Cayman diving would be at the top of the list. This is where scuba diving tourism took off, making it one of the most popular dive spots in the world. This island has world-class dive operator facilities, breathtaking underwater scenery, and optimal sea conditions for scuba diving. It's also where cruise ships stop and the majority of the resorts and attractions are located.
This doesn't mean diving on the other islands isn't just as incredible. These islands have more secluded diving spots, magnificent wrecks, and little to no current.
While all the beaches in Cayman are free, scuba diving Grand Cayman comes at a charge. Expect to pay at least $80 per dive, with prices increasing equipment rental and the duration of your dive. All rates are in USD, so you don't have to worry about currency conversions.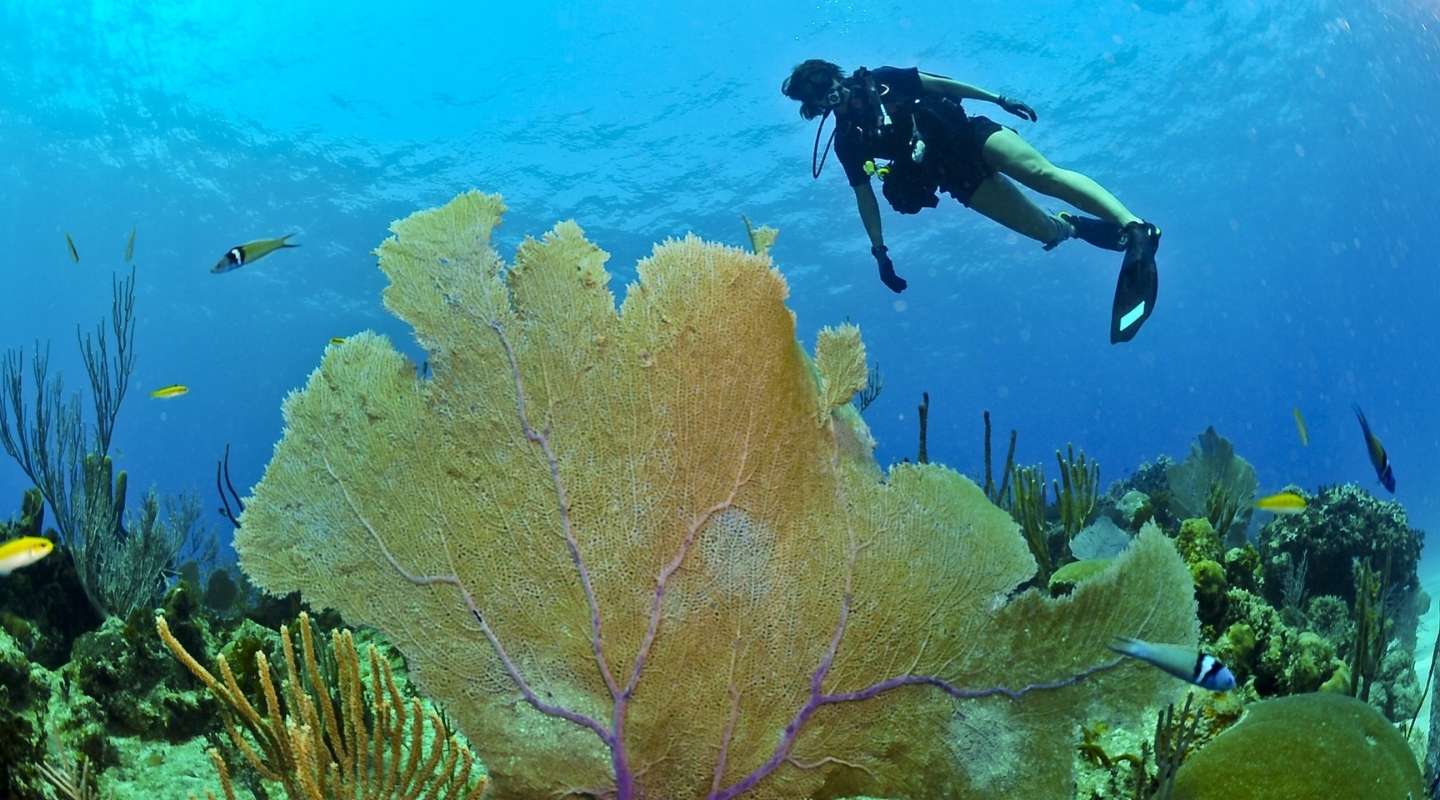 Best Time To Dive Cayman Islands
The seas surrounding the islands are always warm, so the water temperature is never a problem, even in winter. As for visibility, that will vary day by day, but you might expect a decrease in visibility during hurricane season from June to November. The seas also tend to get rougher around this time, making it a bit more intimidating for beginners if you get a particularly windy/wavy day.
The best time to dive in Cayman is at the end of March through the start of May. This is right after the Spring Break crowd dies down, and just before the uptick in summer.As you can see from the chart below, this window still allows you to catch a lot of the sea life. Underwater activity is also at its busiest, and you're sure to see more green turtles, juvenile reef fish, and tons of stingrays.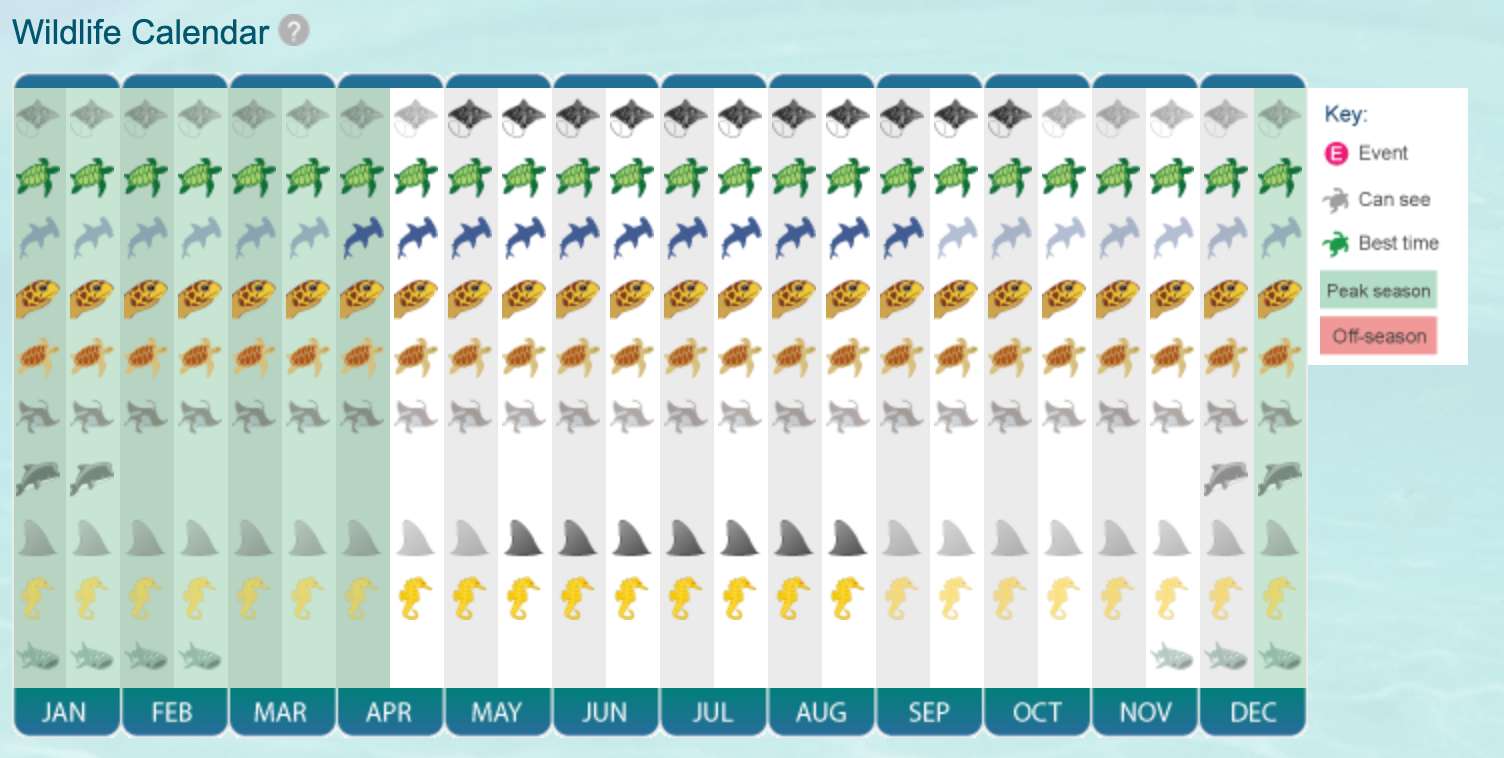 Photo source: DiveReport.com
Some say there's no bad time to dive in Cayman, but pick your times based on your preference around crowds, water temps and comfort with some wind and waves.
Best Dive Options for Cruisers Visiting The Caymans
It's a pity that so many cruise ship passengers are unaware that they can scuba dive when the ship docks. There are many Grand Cayman diving sites close enough to the port, which means you have more than enough time for a dive.
Most dive operators offer pick-up from the terminal, so you don't have to worry about finding a ride. They offer both one and two-tank dives.
Usually, the round trip dive experience, including transport, is just under 5 hours, more than enough time to explore. Certified drivers should have proof of a logged dive within the past two years or a certificate from a refresher course. If you'd prefer to stick to snorkeling, check out our ultimate guide on snorkeling the Caymans.
If you've never scuba dived before, but want to give it a go, you can do a discovery dive during your stay in port where a dive master will help get you into the ocean for your first ever dive!
Diving In The Cayman Islands
Every year, thousands of scuba divers flock to the islands, just to dive. There must be a reason right? Here are some of the top reasons to plan a Grand Cayman dive vacation: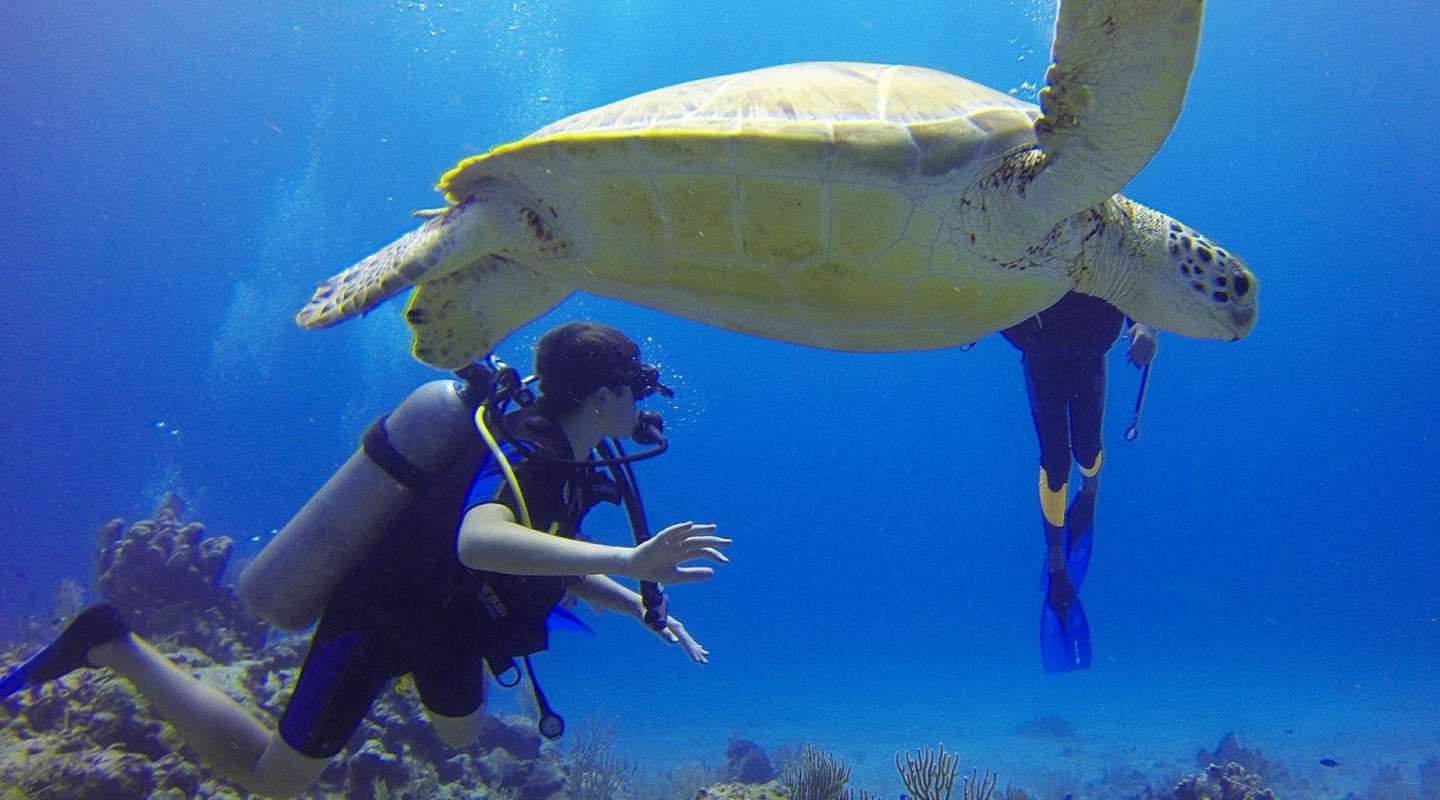 Great Place to Get Certified
The Caymans are a great place to get certified. If you do the theory part online beforehand, training will be complete in as little as three days. Rates for certification will vary, but most divers end up getting the PADI Open Water Diver Certification as it allows you to rent equipment and dive without an instructor. Set at least $500 aside, but refresher courses should cost significantly less.
Beginners can also do a "Resort Course'' that gives basic instruction on skill and safety. This won't take more than half a day, and you will be brought on guided dives of up to 40 feet.
There are even advanced and technical diving courses available for more advanced, unsupervised underwater excursions.
Discovery Dives Available
If you're not certified, and you have no time to do a course, a discovery dive is your next option. Your instructor will go over basic safety rules and how to use your equipment. You'll also be provided with a snorkel and other basic scuba gear.
This is perfect for children ages 10 and older, and adults with no experience diving. This includes shore diving in your very first day!
Excellent Visibility
Every diver knows that high visibility is key to a fulfilling diving experience. For starters, you can see your surroundings better and maybe catch glimpses of those large animals just off a deep shelf. Cayman is known for excellent visibility of 60-100ft, or more.
Bearable Water Temperature
Generally, water below 70℉ is considered cold for diving. Unless you're an avid diver, you won't want to be bothered with thick and cumberson wetsuits to prevent hypothermia. In the Caymans, the average water temperature ranges from 79℉-85℉, perfect for diving comfortably. August and September is typically the warmest waters with February being the coolest.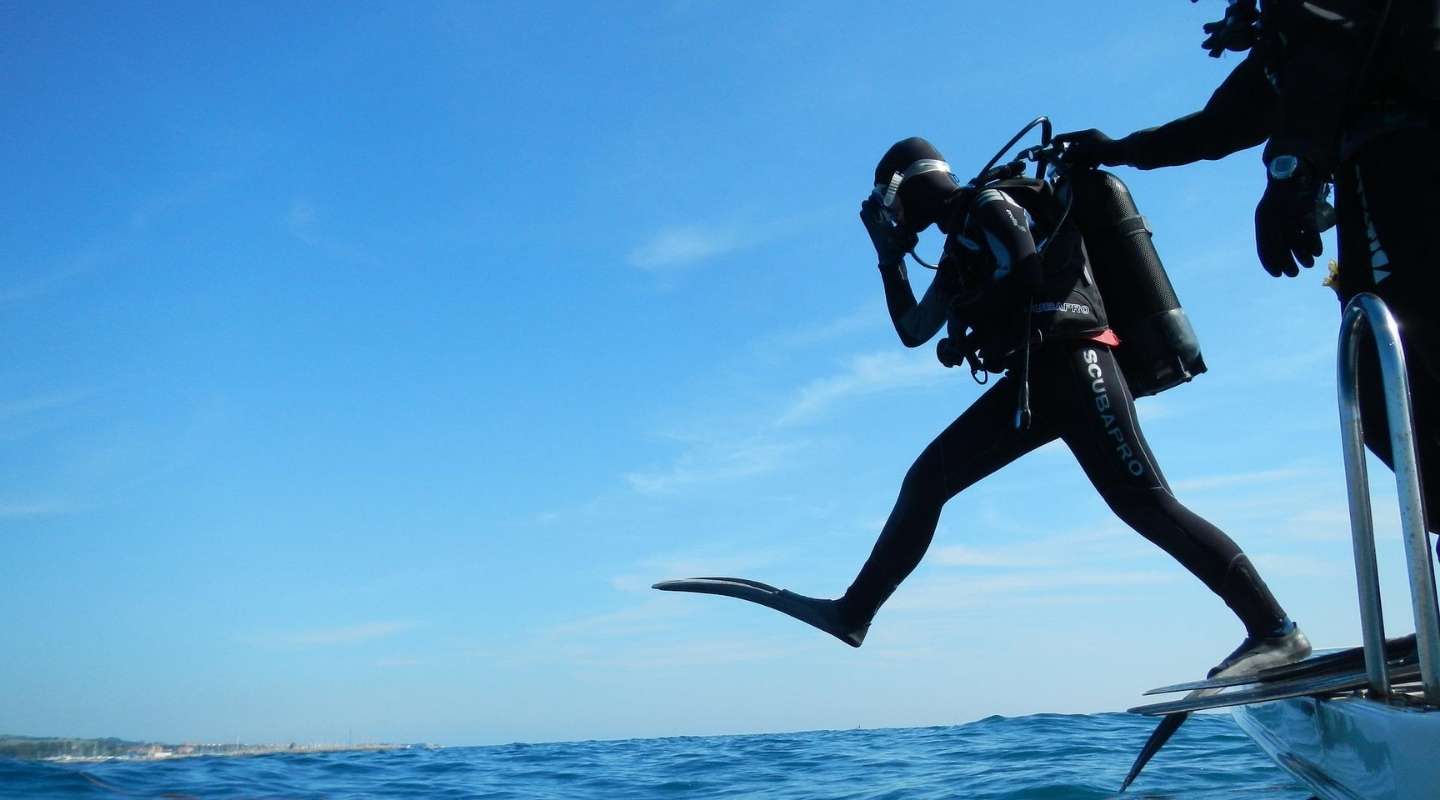 365 Diving Sites Across the Three Islands
There are 365 diving sites in Cayman, each offering a unique experience to divers. 240 of these are in Grand Cayman, 65 in Cayman Brac, and 60 in Little Cayman. The island is known for its clean waters and the most you'll see is the occasional plastic bottle or straw.
The best diving site is debatable, but the most popular is Ghost Mountain, followed closely by USS Kittiwake, Stingray Island, Babylon, and Bloody Bay Wall.
Wreck Diving and Underwater attractions
Wreck diving gives us a glimpse of the past and create perfect exploration spots for dives.
Little Cayman is home to the Soto Trader Wreck of 1975. In Grand Cayman, you can visit the world-famous Kittiwake, a US Navy Ship 60 feet below the surface, with 5 levels to explore. Other popular wrecks include the Balboa, Carrie Lee, Doc Polson, and Oro Verde. If you're in Cayman Brac, stop by the Capt. Keith Tibbetts.
Affordable scuba diving options in Grand Cayman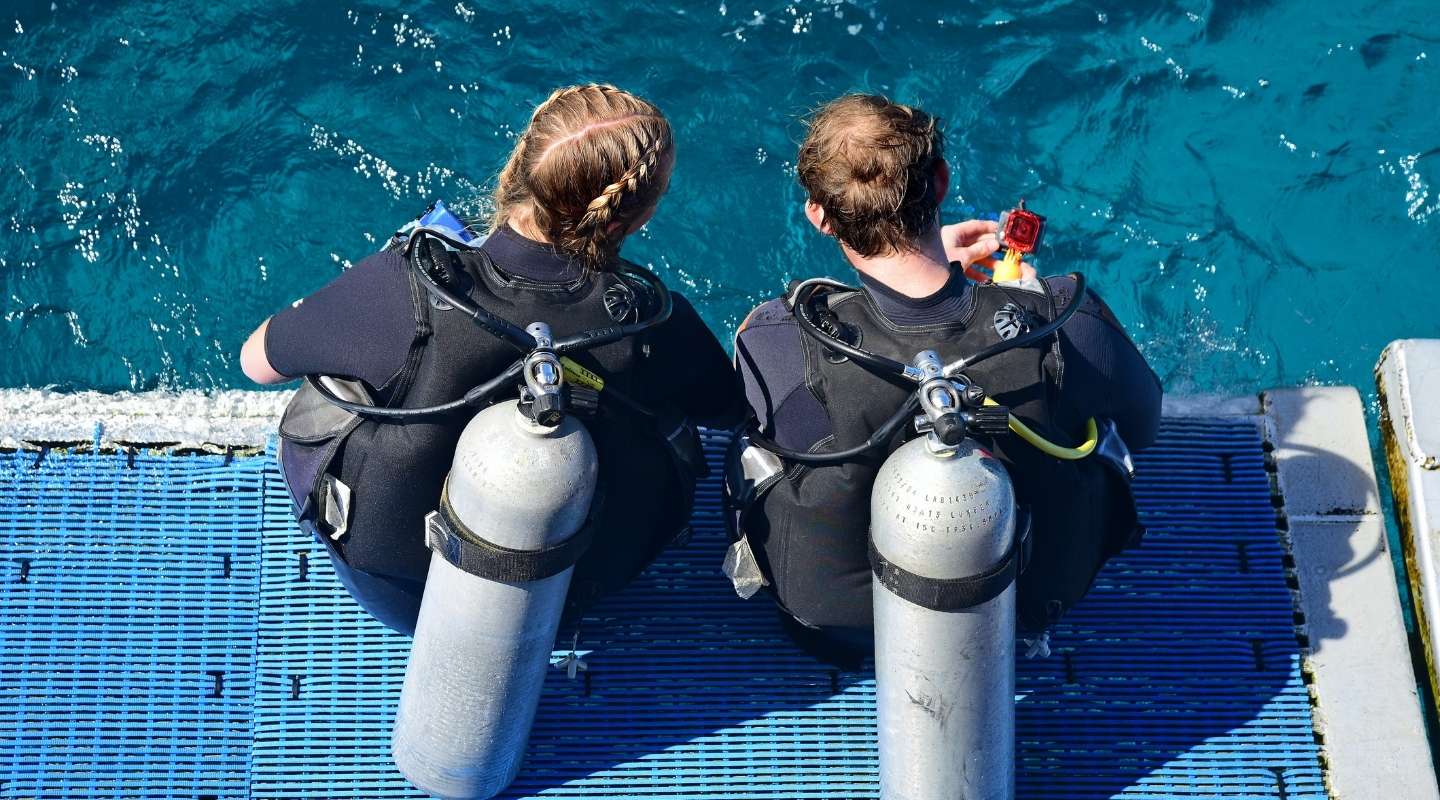 Generally, The Cayman Islands are a bit pricey. However, diving is reasonably affordable relative to other costs in the Caymans.
The first thing you should know is that the diving packages are quoted in USD. The packages are priced according to the equipment that will be used, number of dives and discounted if you choose to dive multiple days with the same operator.
Many resorts double as dive operators and offer rates that are a part of your all-inclusive experience. There are also many independent dive operators on the island. A single dive can often be found for under $100 or a dive at Stingray city can be found for $120 A two-tank dive will typically cost $120-150 or get as low as $100 if you book multiple days.
Photography and Marine Life
The Caymans have always been an excellent location for underwater photography, but it wasn't until the award-winning photographer David Doubilet photographed at Stingray City that other photographers arrived on the island in droves.
Snap pictures of the famous green turtles, sting rays, sponges, and starfish during your stay. You may also come across reef sharks, sea cucumbers, lobsters, squid, octopus and so much more. Bring those GoPros along to capture the incredible underwater sights!
FAQs About Grand Cayman diving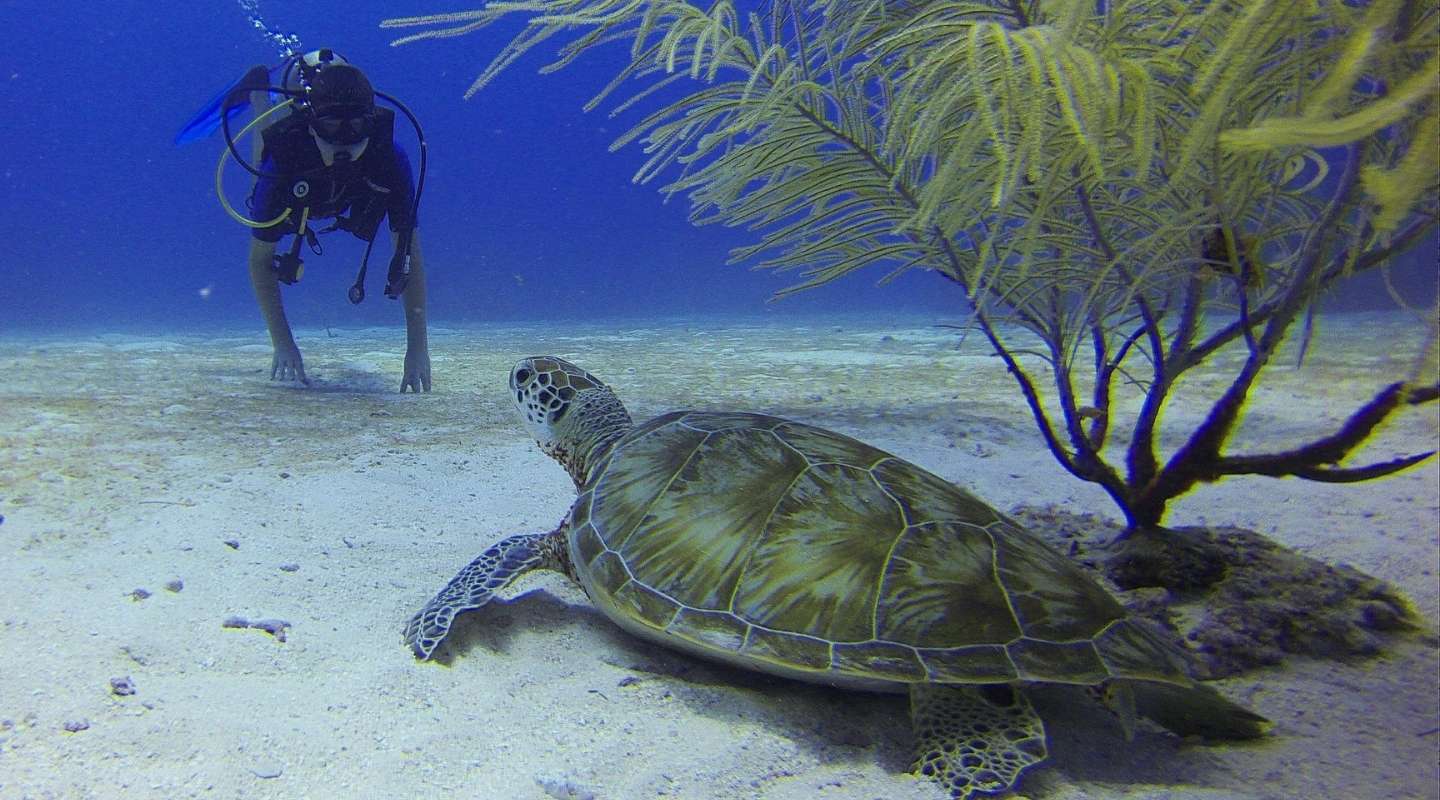 What marine life can I expect to see in the Cayman Islands?
When scuba diving the, expect to come across:
Sea turtles
Stingrays
Caribbean reef sharks
Spotted eagle rays
Groupers
Flamingo tongues
Tarpon
Sponges
Silversides
Caribbean reef squid
Octopus
Angelfish
Starfish
Nurse shark
Arrow crabs
and more
What are the best dive sites in the Cayman Islands?
We hesitate to label "best", but the most popular sites are:
Ghost Mountain
Bloody Bay Wall
USS Kittiwake
Babylon
Stingray City
Captain Keith Tibbetts
What's the recommended experience level for diving in the Cayman Islands?
All levels welcome! Newbies can enjoy discovery dives or get certified. If you've got your PADI Open Water Diver Certification it will allow you to jump right into most of the iconic dive areas. Having your Advanced or Rescue certification is great for some of the more in-depth wreck dives.
Can I scuba dive in Stingray City?
Yes, this is a popular Grand Cayman diving spot, especially for underwater photographers. Checkout some of the top ways to enjoy Stingray City.
How much does it cost to dive in the Caymans?
Grand Cayman diving activities cost at least $80-$100 and depend on the dive operator. Two tank dives are usually $130-$150. Check out their websites or call ahead for more details.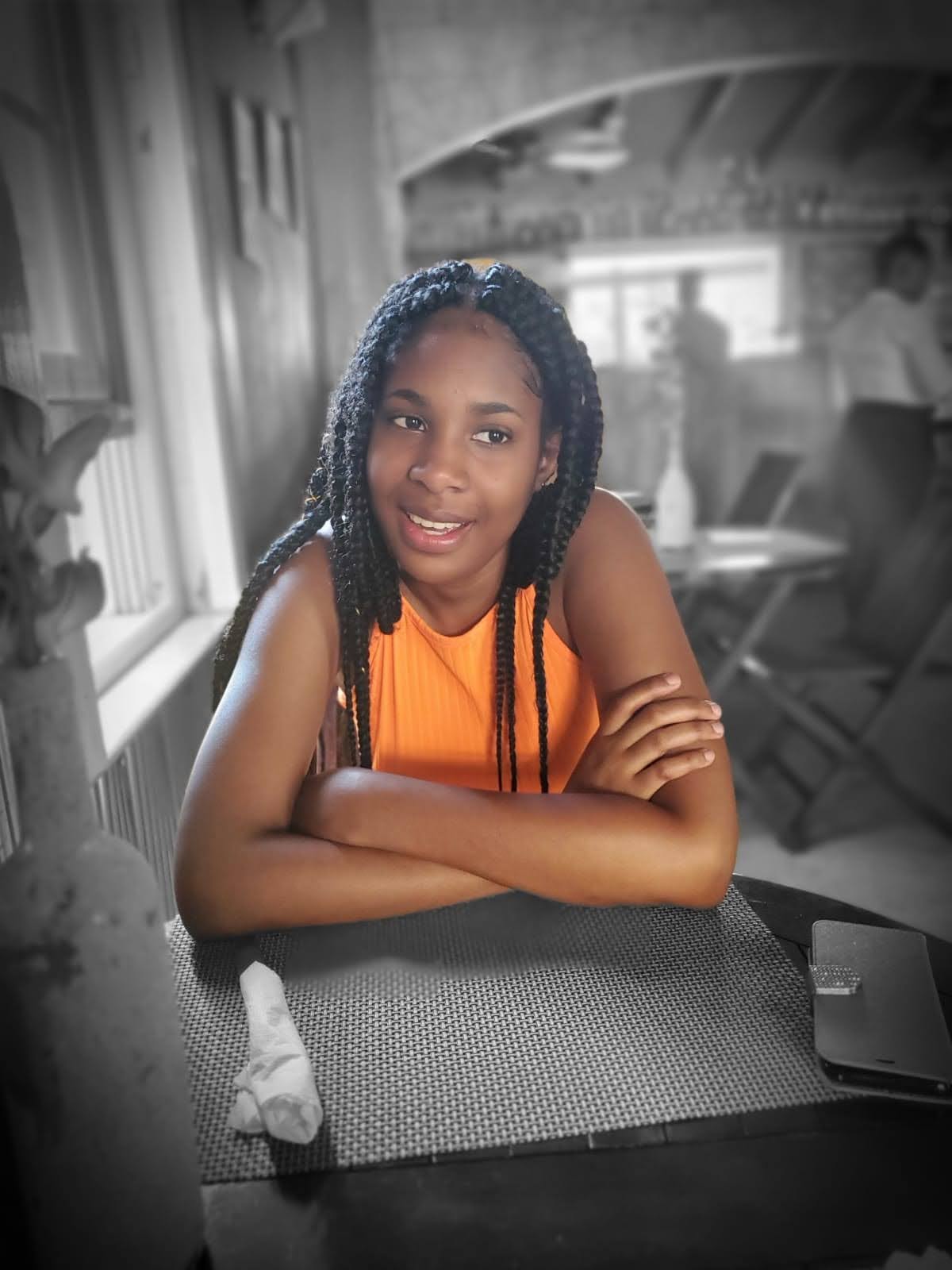 Khadéjah L
Jamaican Adventurer, Writer
Khadejah Lambert is a Jamaican travel and tourism writer who uses her local expertise in Jamaican culture and economics to help travelers better understand and navigate Jamaica. She has written for The Massive Jamaica and provided travel writing, editing, and digital strategy guidance for a variety of Jamaican brands and travel outlets.
Best Diving & Snorkeing Tours in Cayman
Dive into the clear waters of the Caribbean!
Useful Resources for Exploring The Caymans
All you need to know about visiting the Cayman Islands